Five Bulldogs qualify for state as team finishes runner-up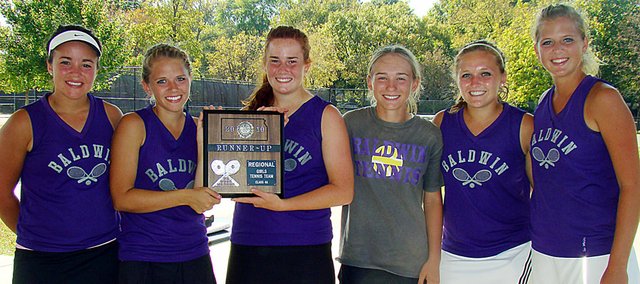 TOPEKA — Baldwin High School's girls' tennis program had one of its best Class 4A regional tournaments here last weekend.
The Bulldogs qualified five of their six players for the state tournament this weekend. The five qualifiers helped the Bulldogs earn a runner-up finish and a team plaque.
"To get this many girls in from our regional is a big thing," coach Justin Hoffman said. "Also to get second as a team is huge."
The BHS players were also very excited about their success at the regional tournament.
"That was awesome," senior Michaela Krysztof said. "I've had this goal of making state and now I've done that and the team finished second. It's amazing."
Senior Kara Protasio will be heading to state for her second straight year as a singles player. She is happy to be having her teammates along with her this year.
"Our regional was so hard," Protasio said. "It's so gratifying knowing that we placed second as a team. It shows that we've been working hard all season."
Protasio is the lone singles player heading to state from Baldwin. She placed fourth out of 20 players and the top six advance to state.
"She played really well," Hoffman said. "Being a two-time state qualifier is awesome."
She started her tournament off by easily beating Alyssa Monaghan from Hiawatha. Protasio took care of business, winning in straight sets, 6-1 and 6-0.
Protasio's next match on Friday would qualify her or her opponent, Topeka-Hayden's Mackenzie LaCount, for the state meet. The loser would have to fight back into qualifying in the consolation bracket on Saturday.
The first set went to LaCount, 6-3, but Protasio battled back in the second set to stay alive. She won it 6-3. The final set was a tiebreaker and Protasio cruised to victory, 10-4.
"I looked at the brackets before hand," Protasio said. "I'm someone who needs to know what's going on in order to do well. I knew if I won the match, I would qualify for state. I'm excited about going back to state. I hope to do a lot better than last year."
On Saturday, Protasio lost in the semifinal round, 6-1 and 6-1, to the eventual runner-up, Hayden's Paige Hunter. In her third-place match, De Soto's Paige Williams beat Protasio 6-4, 6-3. Protasio finished fourth.
"Friday was my better day," Protasio said. "Obviously, I won both of my matches on Friday and lost of mine on Saturday. I was more motivated and focused on Friday and knew if I played well Friday, I wouldn't have to be so stressed on Saturday."
She has one goal in mind this weekend.
"I would like to do better than last year," she said. "Obviously, that would include playing harder and going further in the bracket."
In doubles action, Baldwin will be sending both teams to the state tournament. The team of senior Michaela Krysztof and junior Alison Berg finished fourth, while the other team of juniors Kara Hoegerl and Hayley Schwartz placed fifth.
"They both played good," Hoffman said. "Both teams were inconsistent at times, but they pulled it together when they had to. They all played strong."
Krysztof and Berg qualified for state on Friday when they won their quarterfinal match over a Saint James' team. The BHS pair won in three sets, 4-6, 6-4, (10-7). Once the match was over, the BHS duo didn't know they had qualified for state immediately.
"We didn't know we had qualified when the match was over, because coach didn't tell us how many games we had to play to qualify," Krysztof said. "We thought if we lost that game, we were done. We had a tiebreaker in that match, so we were really nervous.
"Then we won by three points and when we came off of the court, all of our fans started jumping, screaming and hugging us," she said. "Then my aunt got my uncle on the phone and he said 'So I hear you're going to Wichita.' We started screaming when we realized we qualified. Everyone was like 'duh.' It was actually really funny."
Berg said she didn't know they had qualified either, but she was excited once they heard the news.
"I'm really excited and I can't wait to play at state," Berg said. "We didn't know at all. We were really excited, because we beat them in the tiebreaker. It was really exciting once we found out after the match."
Krysztof and Berg won their opening match of the day 6-0, 6-0 after waiting three hours to play after warming up in the morning. On Saturday, they lost to the eventual runners-up in three sets and the third-place finishers in three sets to place fourth.
"I think we played a little bit better on Friday," Berg said. "Our second match on Saturday was two and a half hours, so we really got drained. We gave our best effort."
Baldwin's other doubles team won its first match on Friday 6-0, 6-0. They proceeded to win the second match 6-4, 6-4. Their third match was their first chance to qualify for state, but the Bulldogs' team of Hoegerl and Schwartz fell 6-3, 3-6, (13-11).
On Saturday, they came back and won their opening match 7-5, 6-1 to qualify for the state meet. They finished the tournament with a 6-4, 7-5 win to place fifth.
"We came back from being down 5-1 and won 7-5," Schwartz said of their qualifying match on Saturday. "We told each other just to keep going and then we won the match."
Hoegerl said once they qualified, they both stood in shock for a few moments.
"It's pretty awesome," Hoegerl said. "Once we won our qualifying match, Hayley and I were in shock. We just stared at each other with our jaws dropped. It was so exciting."
Baldwin's other competitor was sophomore Kaitlin Jorgensen. She entered as the No. 7 seed and won her first match, 6-2, 6-0. Then she fell to the eventual regional champ, 6-1, 6-0 on Friday.
Jorgensen's qualifying match would be a tough loss. She lost in two very close sets, 7-6 (7-5), 7-5.
"Kaitlin played really well," Hoffman said. "She lost a close match to a quality player, 7-6 and 7-5. She played well. She just got out experienced toward the end."
The state tournament will begin around noon Friday at Maize South High School.
"We want to do well," Schwartz said. "My personal goal is not to get bageled at all. As long as I achieve that, I'll be happy. Just going to state is good enough for me."