Festival committee fine tunes downtown booth layout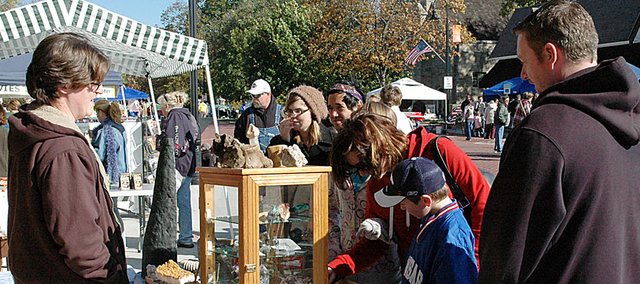 A change to the layout for craft booths should create more room for foot traffic at the 53rd annual Maple Leaf Festival.
During the past several years, the middle of High Street has been filled with two rows of booths, while there were booths lining the edge of the street, as well. This year, the festival committee decided to allow only one row of booths down the middle of the street.
"We thinned out the booths that are in the middle of the streets," said Donna Curran, MLF booths committee chair. "There is just going to be a single-file line of booths instead of double booths. So, there will be more room in the streets.
"Some people thought there was too much congestion in the streets. So this will help relieve some of that congestion and also connect the booths at Eighth and Chapel with the rest of the festival."
The craft and food booths will extend from Sixth Street to Eighth Street down High Street, as well as from Indiana Street to Chapel Street down Eighth Street. There will be other booths around the downtown area, such as on Seventh Street, between High and Grove streets.
"The festival is totally full," Curran said. "We're always full. This year, we extended the booths down Eighth Street to meet BPW, so we added on some at the end."
As for food booths, the popular ones are back this year. The Baker University Kappa Sigma Fraternity booth, known for its turkey legs, almost missed the deadline. There was concern the booth might be moved, but Kevin Garber, food booths committee chair, said the turkey legs should be back at their normal spot near the corner of Eighth and High streets.
"They are back in their same spot," Garber said. "We didn't hear from them for quite a while, so we thought they might not do it. But they were just college guys procrastinating. We've adjusted, and we're trying to get them back where they were. So there's really no change there."
One food booth new last year's festival that will be returning is the Chris Cakes all-you-can-eat pancakes. The booth will be open from 8-11 a.m. Saturday and Sunday.
"One that was a big hit last year that will be back this year is Chris Cakes all you can eat pancakes," Garber said. "The Church of the Nazarene Youth Group is the booth sponsor. They will be in front of Shirt Shack, north of the fountain."