Boyd family named 2010 parade grand marshals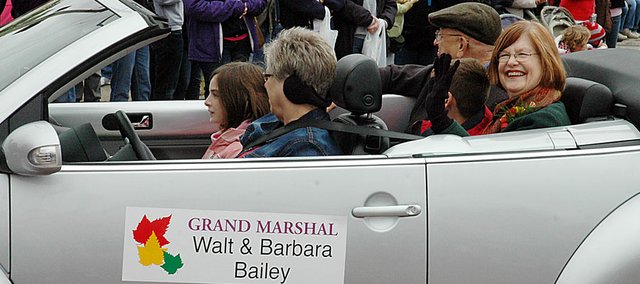 This year's Maple Leaf Festival Parade grand marshals have direct ties to one of the festival's co-founders.
In fact, they are the children of Ivan Boyd, a late biology professor at Baker University who helped start the festival in 1958. Roger Boyd and Barbara Pressgrove will be the grand marshals of the 53rd annual festival.
Boyd and Pressgrove will be riding in vehicles with their spouses, Jan Boyd and Martin Pressgrove, near the front of the parade route. The Boyds and Pressgroves have been involved in many community organizations, including the Boy Scouts of America, which is celebrating its first century of existence this year.
"We are trying to draw attention to the Boy Scouts," said Annie France, MLF committee chair. "It's their 100th anniversary this year. The Boyd family brought the Boy Scouts to Baldwin City, and they are still involved today. So, we wanted to honor them and make sure that they knew that we recognize the contribution they make to our community."
During the festival, Roger Boyd and the Boy Scout Troop pick up the trash around town. It's one of several ways the troop helps the festival, along with having a food booth. The trash-collecting job can last for hours after the festival ends each day.
"It keeps us busy," Boyd said. "I usually start right after the parade. I don't do it during the parade, because that's too much of a nightmare and not much trash has accumulated until then. On Saturday, I usually don't get done until 7 or 8 p.m. and on Sunday it's never before 7 p.m. It's usually around 8 p.m. We work well past dark."
The Pressgroves have also been a part of the festival, as they have a food booth each year that sells sno cones, popcorn and other food items.
"It should be fun," Boyd said. "It will be nice to be in it instead of working during the parade."