BHS

cross country teams sweep Sabetha, ready for league meet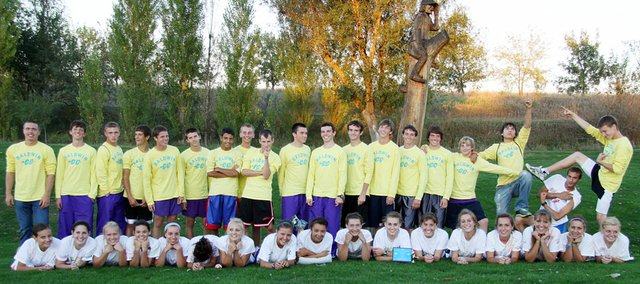 Tony Weiss picked a great time to run his fastest 5-kilometer cross country time.
The Baldwin High School senior set a personal best time last Thursday at the Sabetha Invitational. It was the Bulldogs' final tune up before their final three meets: Frontier League, Class 4A regional and 4A state.
Weiss won the boys' 5K race in a time of 16:10.8. He won the race by 21 seconds.
"I set a new PR by about 10 or 12 seconds," Weiss said. "I've had that PR for a while, so it was really nice to get that weight off of my shoulders. It feels good. I have to thank coach. He's got me here."
Weiss was followed by freshman Ethan Hartzell, who finished runner-up. Hartzell ran 16:31 and helped Baldwin win the boys' team title at Sabetha. BHS scored 26 points as Clay Center finished second with 38 points.
Five seniors rounded out Baldwin's top seven runners at Sabetha. They were Brandon Baltzell, Kyle Garcia, Joey LaBuda, Ethan Horne and Carson Barnes.
"It went really well," Weiss said. "We had a lot of guys run really fast. It was a good time. A lot of guys ran well, and it was a lot of fun. Three of our top five didn't run, but we had other guys step up and run really well. They helped us have a good team score, which helped us win. Coach has us starting to peak at the right time."
On the girls' side, Baldwin may not have placed anyone in the top two, but it was still able to win the team title. BHS cruised to the victory with 29 points, while Clay center placed runner-up with 82 team points.
"We had a really good meet," coach Mike Spielman said. "The kids ran some of their fastest times again. It was really nice weather with some good competition. It was 3A and 4A schools, which was nice after running against bigger schools at the past three meets."
A trio of Bulldogs finished third through fifth in the girls' 4-kilometer race. Sophomores Kaitlyn Barnes, sophomore Sienna Durr and freshman Katie Jones placed third, fourth and fifth, respectively.
BHS juniors Elizabeth Sigvaldson and Carol Whaley rounded out the top five. Freshman Ashton Temple was the sixth runner for BHS. Junior Abi Hartzell ran her first race since the Bulldogs' first home meet. Senior Heather Karlin was the Bulldogs' eighth runner as she has returned from a medical issue.
"The girls ran very consistent again," Spielman said. "Sienna didn't feel quite as well, but Kaitlyn ran well. The top three are changing each race. We're lucky that we have enough solid girls that we should usually have four or five run well for us, no matter who it is. Abi and Heather are getting back in there, too. Those two are giving us even more depth."
The Bulldogs will be competing at the Frontier League meet today at Rim Rock Farm north of Lawrence. The girls' race will start at 4:30 p.m. with the boys' race beginning at 5:30 p.m. The Delaware Valley League will run at 4 p.m. and 5 p.m.
"We want to get off to a good start," Spielman said. "It will be a bit different than the past several years. Each year, the league has been getting smaller and now we're down to seven schools. It's a smaller meet, but it's still an important meet for us. Spots for the regional team will be up for grabs Thursday. We will see who can handle the pressure, put it together and run well that day."
Weiss agreed about varsity spots being up for grabs at the league meet. He also hopes the Bulldogs can leave with two team titles.
"It should be fun," he said. "We have a good shot to win it. There will be some good competition, so hopefully everybody has a good day and runs well. There will definitely be a fight for varsity. There are a lot of guys fighting for the five through 10 spots, so there should be a lot of friendly competition between our team. It will be fun."