Bulldogs fall in battle of unbeatens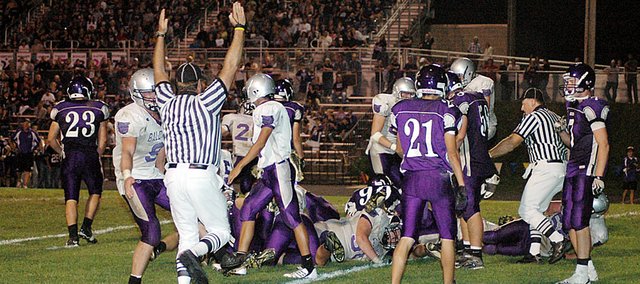 LOUISBURG — Second half turnovers doomed Baldwin High as it dropped its first football game of the season Friday night. BHS (5-1) fell to Louisburg (6-0) 42-26.
The Bulldogs turned the ball over three times during the second half. The first was a failed fourth-down-and-1 attempt from its own 35 yard line. Louisburg scored a touchdown four plays later to take a 28-20 lead.
After trading three-and-outs, Baldwin threw an interception at midfield, which was returned for a Louisburg touchdown. Baldwin's final turnover was a fumble on its next possession.
In the first half, Baldwin fell behind 14-0 early, but rallied to tie the game in the second quarter. Each team scored a touchdown during the final five minutes of the half.
Baldwin will play Ottawa at home next Friday.
Scoring summary
B — 0 20 0 6 – 26
L — 14 7 14 7 – 42
L — David Embers 15 reception from Kody Cook (Derek Mathia kick)
L — Garrett Griffin 69 run (Mathia kick)
B — Josh Hoffman 26 run (Hoffman kick)
B — Ryan Rogers 29 run (Hoffman kick)
L — Alex Gentges 1 run (Mathia kick)
B — Landon Ausherman 1 run (Rogers pass failed)
L — Griffin 17 run (Mathia kick)
L — Gentges 48 interception return (Mathia kick)
L — Colton Seely 5 run (Mathia kick)
B — Chad Berg 30 run (Rogers pass failed)