School board sets date for rural schools public hearing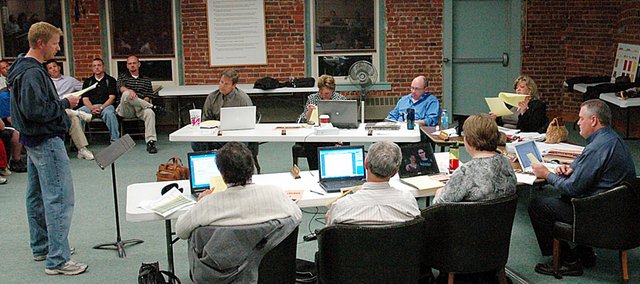 Veterans Day in the Baldwin School District might end up turning into a battle over the future of Marion Springs and Vinland elementary schools.
That's the date The Baldwin USD 348 Board of Education chose for the public hearing regarding the future of the two outlying schools. It will start at 7 p.m. Nov. 11 in the Baldwin Junior High School auditorium.
The school board passed the motion to have the public hearing by a 4-2 vote Monday night. Board Members Ruth Barkley and Blaine Cone voted against the motion. Board Member Josh Mihesuah wasn't at the meeting.
"Just because you have the hearing, it doesn't mean that you are closing any building," Superintendent Paul Dorathy said. "You just have to hear what the public has to say about this matter."
Dorathy suggested the board have the public hearing in the BJHS auditorium because of its capacity. He said it would also allow for speakers to come on the stage and speak into a microphone so everyone will be able to hear them.
Four of the six board members were OK with moving forward with the process to have the public hearing.
"I am in favor of going through with this process," Board Member Bill Busby said. "As most of us recognize, we aren't talking about closing the rural schools because they aren't doing a good job. We are making do with less, and we have no choice. I'm not sitting here telling people that this process will result in better education in a net fashion. However, it seems like it's a way to deal with it in a financially responsibly fashion. If we don't maintain competitive salaries in this district, where are we going to get good teachers?"
The board debated for 30 minutes on the topic of closing the schools and the consequences of closing the buildings. Barkley and Cone had concerns about the building's upkeep if they are closed next school year.
Cone asked Dorathy about the liability of MSES and VES if they are closed. Dorathy directed the question to Cynde Frick, district director of financial operations.
"If we use the building for some district purpose, even if that's storage, it will stay under our blanket policy," Frick said. "That means it will have the same rates it has now. Plus, it will have the benefit of the blanket policy.
"If we did not use a closed building for any purpose, the worst-case scenario is after a year or so of being vacant, it would probably come out from under the blanket and be a stand alone," he said. "That means higher rates and it could go to actual cash value. So the plan is to use any closed building for storage, and we have plenty of things we can store."
Cone and Barkley said they were concerned about the effect of the temperatures on the buildings if heating and air conditioning are shut off. Barkley also had issues with the idea of closing the buildings, instead of looking at other options to save the district money.
"Three years ago we all sat at this table and looked critically at our district," Barkley said. "We created a vision and how we could achieve that vision, part of that was floating this bond issue. We were focusing on early childhood education with the new building. It's not that anymore. We don't have Parents as Teachers or Rainbow Preschool there. We shouldn't betray what the voters wanted us to do, which was focus on early childhood education.
Board President Alison Bauer said circumstances had changed in the past three years.
"Well Ruth, I agree with you in part, but three years ago when we did our strategic plan the economy hadn't tanked," Bauer said. "When we passed the bond issue, the economy started to tank, and we didn't know how much further we would be cut by the state. I agree that those buildings are valuable assets, but at the same time I don't think the discussion on how we are going to care for them in the future has a whole lot of bearing on deciding whether or not we are going to have this meeting tonight."
Board member Scott Lauridsen said he wants to do what was best for the entire district.
"We are hurting in grades 6-12 at the expense of this vision for what we wanted to do in early childhood," Lauridsen said. "To me, that's compounding the problem by not recognizing that things have changed. I don't like the fact that it has changed, but it's my responsibility to react to those changes and do what's best, which means we can't do everything we wanted to do for that early childhood vision.
"I still think we can be, relatively speaking, as good as anybody in the area in what we are doing for K-5," he said. "I stand behind that. I think moving the average class size from 17 to 21, based on everything we know has happened to us, I think we are delinquent in making this move."
The school board will meet at 6:30 p.m. Monday at the District Office. The board will allow public comment at the meeting before the board discusses its strategic plan for district buildings.