Pair of 6A schools nip
BHS

cross country teams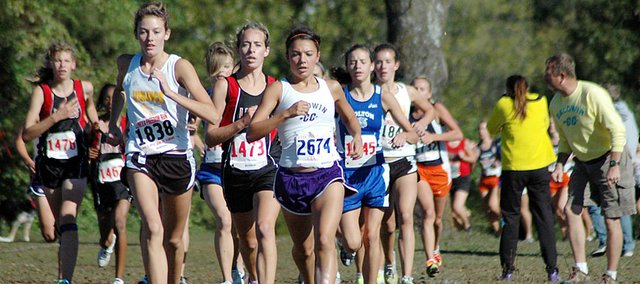 It might seem odd that neither Baldwin High School cross country team won the Saturday's Community America Bank Invitational on their home course.
However, considering the Bulldogs' competition, normality will continue in Baldwin City. The Bulldogs finished runner-up to the teams currently ranked No. 1-ranked in Class 6A.
On the girls' side, Shawnee Mission West scored 38 points to win, while BHS had 52, keeping the winning margin slim. The BHS boys' team scored 60 points as it finished second to Shawnee Mission Northwest, who scored 25 team points. The SMNW boys' program won 14-straight 6A state championships until that streak ended in 2008, but SMNW is back on top of the coaches' rankings.
"We got in there and mixed it up a little bit," BHS coach Mike Spielman said. "They still beat us, but we were still able to run with them. It gives us an idea of what we need to do to be one of the top teams around the state."
Saturday marked the second home meet for the Bulldogs this fall. They were the host of the Sept. 18 Baldwin Invitational. The Bulldogs enjoyed the cooler temperatures Saturday as opposed to heat and humidity at the earlier meet.
"We finally had good weather to run," sophomore Sienna Durr said. "I was kind of disappointed that we didn't win, but I'm happy we at least made it closer than last time. The weather was so much better than the first home meet."
Durr led the BHS girls' squad with a second-place finish. She completed the 4-kilometer course in a time of 15.37.93.
"I thought Sienna ran a really good race," Spielman said. "She bounced back from the last home race to run well Saturday."
Freshman Katie Jones finished seventh. Junior Elizabeth Sigvaldson and sophomore Kaitlyn Barnes placed 12th and 13th for the Bulldogs. Freshman Hannah Hutton (18) and junior Carol Whaley (19) also finished in the top 20.
"Everybody ran nice and steady," Spielman said. "That's the thing that has made us so much better this year. I keep saying it each week, but we keep running steady. We aren't having any bad races, and that's helping us each week."
Junior Tony Weiss and freshman Ethan Hartzell were Saturday's top two BHS boys. They finished the 5-kilometer course in sixth and eighth place. Sophomore Brian Wright (14), sophomore Tosh Mihesuah (17) and senior Brandon Baltzell (19) placed in the top 20.
"I was really happy with our meet," Spielman said. "We were able to have some things go our way. Our times are getting faster. Some kids ran their season-best or all-time best times, so it was a good meet for us."
Baldwin will compete today at the Sabetha Invitational. The meet will begin at 4 p.m. Spielman attended Sabetha High School, and he has been taking the Bulldogs to the meet since becoming the coach in 1992.
"This will be our final tune up before we get into the big three meets," Spielman said. "It's our last time to figure out routines, and we keep getting better and better at it. That's what we need to keep doing."