Bulldogs silence Thunder in homecoming rout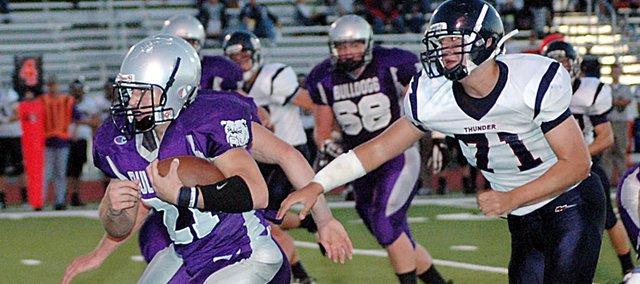 Jesse Austin won't soon forget this past Friday night, because it was a special one for the Baldwin High School senior.
At halftime of the Bulldogs' football game, he was crowned homecoming king by winning the vote from his peers. An hour later, Austin was celebrating a blowout victory over Saint James Academy. The Bulldogs (5-0) beat the Thunder (2-3) by a score of 53-12.
"It's really fun to win big like this," Austin said. "I will definitely remember this for the rest of my life."
The BHS senior lineman was more surprised at winning homecoming king, because he thought teammate Kyle Pattrick would get the crown.
"I couldn't ask for anything more," Austin said. "I was really surprised at halftime. I was expecting KP to win it. I talked to him about it and told him he's got it. Then I pulled it out, which was exciting. The first thing I did was look for my mom, because I thought she might do something embarrassing."
Coach Mike Berg was glad the homecoming week distractions didn't cause his players to lose focus of the game.
"Our kids were very excited about this game," he said. "All week, we said this feels like our first home game, because there was so much rain and the first home game was delayed a day. It didn't feel like a home game to us. I wasn't sure how focused we'd be with all of the activities all week, but they showed up and took care of business."
On the field, senior Josh Hoffman helped lead the Bulldogs to victory Friday. He scored five touchdowns, one of which was defensive, during the second and third quarters.
"It's really exciting to win homecoming," Hoffman said. "Our goal was to come out and be physical with them. It's really nice playing on Baker's field. Playing on turf makes everything seem a lot faster."
Baldwin scored touchdowns on six of its first seven drives. BHS took the opening drive 67 yards in 10 plays. The drive concluded with a 2-yard touchdown run by senior Landon Ausherman.
"We were planning on getting the ball first and then marching it down their throats," Hoffman said. "It worked out great. It sets a statement for the rest of the game."
Late in the first quarter, junior Asher Hannon intercepted a Thunder pass. After a 15-yard run by senior Ryan Rogers, Hannon broke up the middle for 29-yard touchdown run to give BHS a 14-0 lead.
Baldwin made St. James punt on three of its first five drives. The other two resulted in interceptions by the Bulldogs.
"We told the kids we have to set the tone early and keep the ball out of their hands," Berg said. "They are a very good offensive team. They throw it all over the field. They are young but very good offensively."
Before the Thunder scored on the final play of the first half, Hoffman added three Bulldog touchdowns. He ran 53 yards up the Bulldogs' sideline for one score.
On the next drive, Hoffman caught a pass from Rogers and sprinted up the same sideline for a 55-yard touchdown reception. Hoffman's final score of the half was a 25-yard interception return.
"We ran our butts off for that play, because the scout team was beating us bad on that play," Hoffman said of play that led to his interception. "We worked on that play a lot. When I saw those linemen coming out, my memory came back to me from practice."
Baldwin wasted no time in scoring in the second game. On its second play from scrimmage, Hoffman ran eight yards for the touchdown. Rogers ran 17 yards to set up Hoffman.
Rogers would have scored on the Bulldogs next drive, but the play was called by for holding. Five plays later, Hoffman scored on a 4-yard run.
"I felt bad about the last one," Hoffman said. "They should have given it to Ryan. I am not the one calling the plays, so not much I can do about it."
the Bulldogs' final touchdown came with the younger players on the field. Sophomore Tyler Cawley threw a 6-yard pass to freshman Cornell Brown for a touchdown with 1:05 remaining in the game. Cawley threw a 48-yard bomb to freshman Skyler Shockley on fourth down earlier in the drive to keep possession.
"When it's fourth down, you want to go for it," Berg said. "Skyler Shockley made a great catch. Tyler Cawley made a great throw. We've got good athletes at all levels."
The Bulldogs travel to Louisburg this week for a battle of unbeaten Frontier League teams. The game will start at 7 p.m. Friday.
"It's the biggest game in the state next week," Hoffman said. "We are both 5-0. We've really got to be prepared for them. It will be fun."
Frontier League results
Louisburg – 28, De Soto – 7
Paola – 28, Eudora – 6
Ottawa – 17, Spring Hill – 0
League Standings
Baldwin - 5-0 (3-0)
Louisburg - 5-0 (3-0)
Paola – 3-2 (2-2)
Eudora – 3-2 (3-2)
De Soto – 2-3 (2-3)
Ottawa – 2-3 (1-3)
Spring Hill – 0-5 (0-4)