BHS

students praise homecoming week activities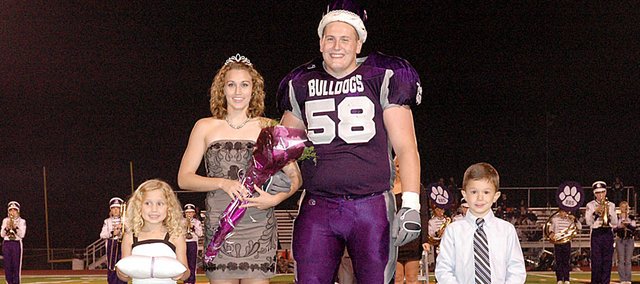 Baldwin High School is still buzzing from the excitement from the crowning of this year's homecoming king and queen, Jesse Austin and Ally Foye.
"I was really surprised when they called my name," Foye said. "I didn't expect to win again after I won princess last year. I didn't even really expect to get nominated."
The duo was together all of last week, competing in spirit week competitions and trying their best to win votes.
"It was really fun being Jesse's partner," Foye said. "He was very entertaining, and he's such a fun person. The dance we did for the assembly on Tuesday was all his idea, and we didn't even practice it. We just winged it, which made it all the more fun."
Last week, the candidates competed against each other in games and activities at two assemblies. On Tuesday, there was a fashion and talent show. Candidates Kyle Pattrick and Michaela Krysztof performed to a crowd-participating dance to "Thiller," Carson Barnes and Claire Glover did a remake of a dance from "Napoleon Dynamite," and Austin and Foye did a skit to the song "I'm a Barbie Girl." On Thursday, the girl candidates threw cheese balls at the male candidates had shaving cream rubbed over their faces.
"The assemblies were a lot of fun," Pattrick said. "Especially the talent show, because we worked really hard on our dance."
The themes for last weeks spirit week were College Day, Twin Day, Wacky Hair Day, Class Theme Day and Purple Pride Day. The class themes were based on pop culture movies. The freshman were 'Twilight," sophomores were "Star Wars," juniors were "Harry Potter" and seniors were "Lord of the Rings."
"I thought the themes for spirit week were good this year," freshman Cassidy Markley said. "I thought some of them were hard to go crazy on though. I really wanted to get into it and go all out but I couldn't on some days."
The classes worked hard on their class floats during homecoming week before riding them during the homecoming parade. This year's winner was the junior class with their Harry Potter float. The director of the junior float was Audrey Dighans.
"I really enjoy to do that kind of stuff," Dighans said. "There were a lot of preparations that had to be done for the float. I had to think of an idea that would go along with our theme, draw it out, explain it to the class and then try and get people to come work on it."
Another event that occurred last week was the homecoming dance. The dance was Friday after the football game, which BHS won 53-12.
"The dance was extremely fun," Markley said. "The DJ was really good and played some awesome music that you could really get down to. It was a great way to end the exciting week."