Bulldogs silence Thunder 53-12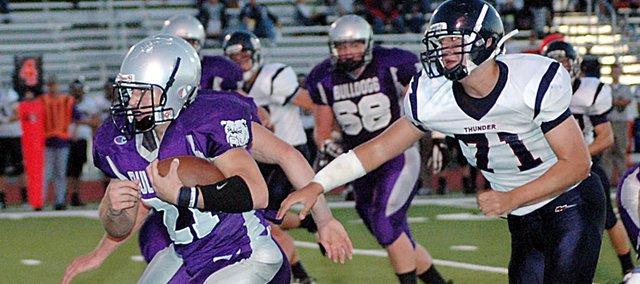 Josh Hoffman scored five touchdowns to lead the Baldwin High Bulldogs to a homecoming rout over Saint James Academy, 53-12, Friday night.
Hoffman scored all five during the second and third quarters. Three of them were rushing touchdowns, including a 53-yard run. He also caught a 10-yard pass and turned it into a 55-yard touchdown reception. Hoffman scored less than a minute later with a 25-yard interception return.
Baldwin scored touchdown on six of its first seven drives Friday. St. James' first score came on the final play of the first half. The Thunder added their second touchdown early in the fourth quarter.
Baldwin will travel to Louisburg next Friday in a battle of unbeaten Frontier League teams.
Scoring summary
B — 14 21 12 6 - 53
STJ — 0 6 0 6 – 12
B — Landon Ausherman 2 run (Josh Hoffman kick)
B — Asher Hannon 29 run (Hoffman kick)
B — Hoffman 53 run (Hoffman kick)
B — Hoffman 55 reception from Ryan Rogers (Hoffman kick)
B — Hoffman 25 interception return (Hoffman kick)
STJ — Bryan Eisman 11 reception from Jake Heller (Michael Allison kick)
B — Hoffman 8 run (Hoffman kick blocked)
B — Hoffman 4 run (Rogers pass incomplete)
STJ — Heller 30 run (Heller pass incomplete)
B — Cornell Brown 6 reception from Tyler Cawley (Mark Harman kick failed)