Zuzzio earns career milestone with 500th win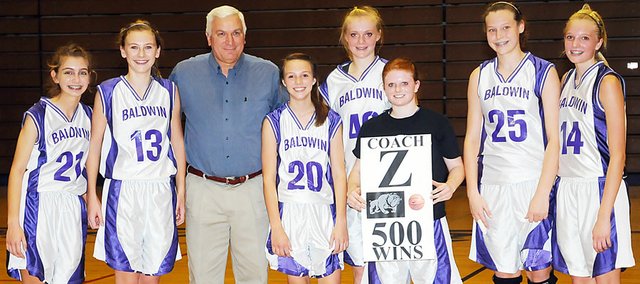 Ted Zuzzio tried to be humble about his milestone victory that was approaching this fall, but his family and players' parents didn't let is pass by without some recognition.
On Monday, the longtime basketball coach in the Baldwin School District earned his 500th career victory. Zuzzio's Baldwin Junior High School eighth-grade varsity girls' team beat Pioneer Ridge 39-11, at home. His entire family, including his wife, Karen, daughter Stacy and son Tony and their families surprised him at the game Monday.
"Originally, I wasn't going to make it into anything big," Zuzzio said. "After you look back, 500 wins is pretty big. My whole family came tonight, which is very special to me."
Gary Stevanus, Baldwin School District activities director, acknowledged the achievement by Zuzzio.
"To reach 500 career wins is quite an accomplishment," Stevanus said. "It means that not only do you have to be successful, but you have to maintain a high level of success over a long period of time. Coach Zuzzio has been able to build and sustain successful programs at the high school and junior high school levels."
Zuzzio's knew his milestone was approaching this fall. He thought it might be reached a week or two ago, but the Bulldogs (4-3) have lost three of their five road games this season. They played two road games last week, but lost both contests, giving Zuzzio a chance to win No. 500 at home.
"We had Spring Hill down and let them out with a win," Zuzzio said. "We missed eight free throws against Louisburg and let them out. We were close. This is only our second home game. We've been road warriors and the road hasn't been that kind to us.
"Our players stepped up tonight," he said. "We are on a little bit of a run here at home. We've won 21 straight games, which dates back to Nov. 12, 2007. They don't add up very fast in junior high when you only play five or six home games a year."
This year is Zuzzio's 34th as a basketball coach in Baldwin City. He was head girls' basketball coach at Baldwin High School from 1977-1997 and then took over coaching at BJHS in the fall of 1997.
At BHS, Zuzzio's record was 332-114, which is a 74.4 winning percentage, during his 20 years. Through this year, which is his 14th, he is 168-36, 82 winning percentage, at BJHS. He has coached four perfect seasons at BJHS.
"Anytime you can win 10 games in junior high, you've had a pretty good year," Zuzzio said. "We only play between 12 and 15 games each year."
Zuzzio coached the only two state championships in BHS girls' basketball history. He won his first in 1982 and the second came in 1996. His Bulldogs were state runners-up in 1985, 1988 and 1997. He took nine BHS teams to the state tournament.
"The two state championships were very special," Zuzzio said. "Two years ago we won the league tournament on a last-second shot by Kailyn Smith. That was as exciting as a state victory in the way we won that game."
Another memory still sharp in his memory was the 1985 sub-state championship game, which was before the three-point line was introduced. BHS trailed by six points with nine seconds left in the game. The Bulldogs tied the game on a half-court shot at the buzzer and went on to win the game in overtime.
"That team outplayed its talent," Zuzzio said. "They overachieved, but it was a special year."
Zuzzio's 500th career win came on a court where he won hundreds of games. The BHS and BJHS teams have shared the BJHS gym for years.
"This is home sweet home," he said.