Wildcats finish season winning five straight games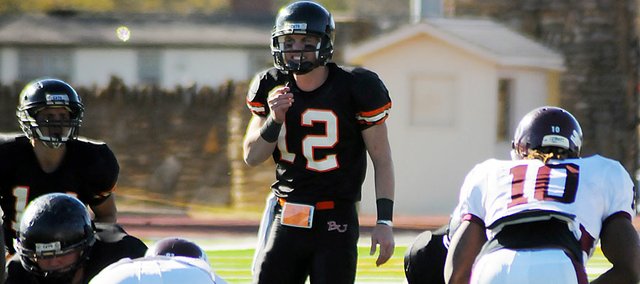 From the second-straight season, Baker University's football team flew under the radar but managed to record another winning campaign.
Baker began the season 0-3 and fell out of the NAIA top 25 with a trio of close losses to top-10 teams, two of which were on the road. The Wildcats (7-4) rallied to win seven of their final eight contests. That streak included the final five games of the season.
"This is two years in a row where we've won seven out of eight to close the season," coach Mike Grossner said. "We had preseason aspirations of knocking off some of those top-ranked teams. When that didn't happen, I thought our guys did a sup job of refocusing.
"Five in a row each year to finish is a great way to finish the season. I'm proud of these guys. Gloom and doom could have happened, but they didn't tank it. They got better as the season approached. We did the best we could have with what was out there."
Baker opened the season with a highly anticipated game with nearby rival Ottawa University. The Braves were ranked No. 9 and they beat Baker 24-14. The Braves finished the season 9-2.
The Wildcats' next two contests were against Heart of America Athletic Conference opponents, both of which were ranked in the top 10. The Wildcats lost 17-10 to Missouri Valley College and 24-16 to MidAmerica Nazarene University. Missouri Valley finished the season 8-3 and ranked No. 14, while MANU is 11-0 and still alive in the NAIA playoffs.
"I think we learned from those games," Grossner said. "As a group, I don't think we realized how big the first game was going to be come week 12, when we were hoping for a ranking. As coaches, we knew that might come back to bite us a little bit. Then the next two games were against top-10 teams and it came down to one-score games. We knew it wasn't about them; it was about correcting our mistakes. We were minus 12 in turnover margin, which is awful, after three games."
Baker fixed those mistakes in the next eight games. The team's only loss during that stretch was to Lindenwood University, who finished the season 9-2. Baker was plus 15 in turnovers during the final eight games. The Wildcats committed 16 penalties in the season opener, but never committed more than nine in any following game.
The Wildcats also used two quarterbacks during the opening stretch of games. Because of injuries and inconsistency, freshmen Jake Morse and Zach Faust shared time as the signal caller during the first three games, but Grossner eventually settled on Morse as his starter.
"During those first three games, when we were two-platooning our quarterbacks, Jake got hurt and couldn't finish any of those games," Grossner said. "Zach did a pretty good job and threw for a lot of yards in the first game. In game one, neither played well and Jake got knocked out. In week 4, I had to make a decision for the team.
"I decided maybe this wasn't working, not that it was the problem, but mentally we needed to hang our hat on one guy," he said. "Jake started learning the offense by then and he gave us a chance to win with his legs, as well as his arm. At that time, we weren't all catching the ball and blocking great, so his ability to run helped us win games. In the end, we needed them both. I think we have two high-caliber quarterbacks entering their sophomore seasons next year."
Both quarterbacks will return next fall and both could see playing time. Grossner likes the situation, because he knows either player can back up the other and the Wildcats' offense won't miss a beat, despite their differing styles of play.
"Jake has proven he's not durable," he said. "There had better be somebody ready to play at any moment. That's his style of play and I'm not going to take that away from him, because that's what makes him good. He's efficient with the football. Zach is more of a risk-taker, and it got him in trouble a couple of times. I don't want to take that way either, because there will be times he will make a super throw into coverage."
This season marked Baker's fourth-consecutive winning season under Grossner. It's the first time Baker has finished four-straight winning seasons since 1991-94. Next year, also looks promising for the Wildcats.
"We feel good," Grossner said. "We have 85 guys coming back. We lost 13 seniors, and we'll only have 10 seniors next year. We are young, but we are developing and improving."