Santa begins holiday season at annual festival
Baker University wins Light Parade float contest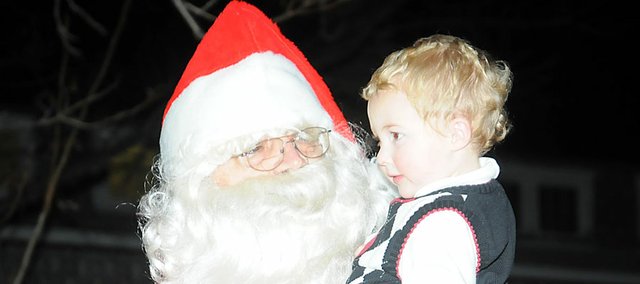 On Saturday, Santa Claus swooped into Baldwin City for his annual one-day pre-Christmas visit before leaving as quickly as he came.
Santa started his day with an all-you-can-eat pancake breakfast at the Baldwin Elementary School Intermediate Center. On Saturday night, he starred in the light parade before displaying his well-known generosity with community children.
"It was a good family event," said Shawna, Garber, co-chair of the Convention and Visitor's Bureau. "Santa rode the antique fire engine and then he passed out candy canes to all of the children. The kids loved visiting with Santa."
Santa Claus' annual parade ride drew another large crowd Saturday evening to downtown Baldwin City. Families and local residents filled the sidewalks near Eighth and High streets for the annual Holiday Light Parade.
This year was his 30th year riding the antique fire engine, which was driven by Baldwin City Fire Chief Allen Craig. Once the fire engine reached the corner of Eighth and High streets, Santa passed out candy canes. He distributed more candy canes in front of the Christmas tree after the parade.
Every year Santa chooses one lucky child to hold while lighting the city's Christmas tree. This year, Harrison Williams, 2, was chosen. He is the son of Bryan and Paige Williams.
In the morning, Santa visited BESIC for breakfast. He talked to dozens of children at Santa's Toy Shop, which was at the same time as the breakfast. The Baldwin City Recreation Commission was the host of the all-you-can-eat pancake breakfast, while Rainbow Preschool sponsored Santa's Toy Shop.
"We had double the turnout from last year," BCRC Director Steve Friend said of the breakfast. "I'm not sure if Santa's Toy Shop had something to do with increased attendance or if it was our signs that we put around town. Debbie was in charge of that, and she said we had about double of what we had last year. I know we pre-sold a lot more than last year."
The Baldwin Community Arts Council hosted a holiday art sale in the Lumberyard Arts Center from 10 a.m. to 7 p.m. However, most of Saturday's activities took place in the evening. The BCRC held its annual raffle prize drawing before and after the parade. Dozens of Baldwin City businesses donated prizes for the drawing.
"The raffle drawing went OK," Friend said. "We probably had a few less items to give away this year, but we still gave away a lot of stuff. The community was very generous and gave away a lot of things. It went well."
Saturday's main attraction was the parade. It made its way down Eighth Street from Chapel to High streets. Then it headed east for one-half block and finished at the city's Christmas tree.
There were 11 floats in this year's parade. Baker University won first place in the float contest with its veterans' memorial float. The grand marshal float took second place with Baldwin Healthcare and Rehabilitation Center taking third place. The grand marshals of the parade were Archer Carlson and Ralph Pearson.
"I think it was a good, fun parade," Garber said. "We had a bit of an emphasis on veterans with our grand marshals and Baker's float. Baker had a really cool float with the names of all its veterans. It was a really cool float."
This year's Holiday Festival was moved a week earlier than it's been the past two years. It was the Saturday after Thanksgiving, but it was moved this year to accommodate families who travel for the holiday.
"The weather was fairly nice, and I think everybody had a fun time," Garber said. "I think we might have had a better crowd last year, so I think we will still contemplate which weekend is best for the event. We might go back to the Thanksgiving weekend next year."
Friend was also pleased with the entire day's activities.
"I thought it was a good evening and a good blend of activities," he said. "Things seemed to flow pretty well. The sound system worked, and the carolers were good. It was a nice evening to kick off the holiday season."