Neighbor: Jody Spurlock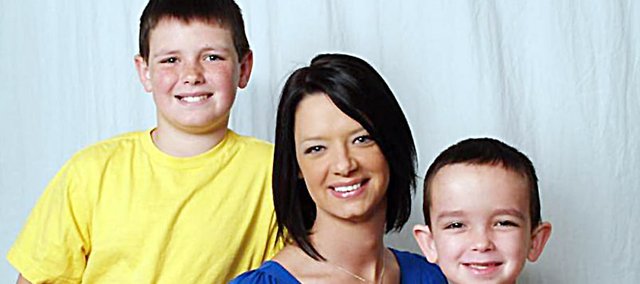 Name: Jody Lynn Spurlock
Occupation: Administrative Associate at the University of Kansas
Family: It's just myself and my two boys right now. Brett's 12 years old and Ace is 8.
Place of birth: Lawrence
Q. How long have you lived in Baldwin City and what brought you here?
A. I've lived in Baldwin nearly all my life. It's my home town. My parents moved to Baldwin from Lawrence when I was 2 years old, I believe.
Q. What's the biggest risk you've ever taken?
A. Well, being a single mom of two and unsure about income, I bought a car. I took on a car payment for the first time ever. And it was a great move. I love my car.
Q. What's the best piece of advice you've ever been given?
A. There are actually two quotes my mom would always tell me. First one was "God will never give me anything he didn't think I could handle," and she'd always tell me that "everything happens for a reason."
Q. What two things would you want people to know about you?
A. I have a lot of compassion and I also have a wonderful and completely supportive family.
Q. What did you want to be when you grew up?
A. When I was younger, I wanted to be a school teacher. In my mom's daycare, I would pretend I was a school teacher to all the kids.
Q. What's the best way for you to get away from it all?
A. I would go visit my girlfriend Kelley in Haysville. She's a really good friend of mine. Sometimes if invited, I would just go spend the weekend with her and her family. Our kids would play and it was great. Or maybe I would just go for a bike ride on an evening my boys were at their dad's house.
Q. What's your ideal vacation spot?
A. Recently I went to Moab, Utah with my boyfriend, Danny. He loves it there and I have never been, so we spent a couple days there with some friends. I enjoyed riding the trails, mesmerized by the size of the mountains and arches, shopping and eating in really nice restaurants. We had a great time and I can't wait to go back!!
Favorite things
Song: "Momma's Song" by Carrie Underwood
Movie: Too many to mention just one, but I love The Blindside and The Notebook
Color: Pink
Food: Chips and Salsa