BHS

football team benefitted from offseason training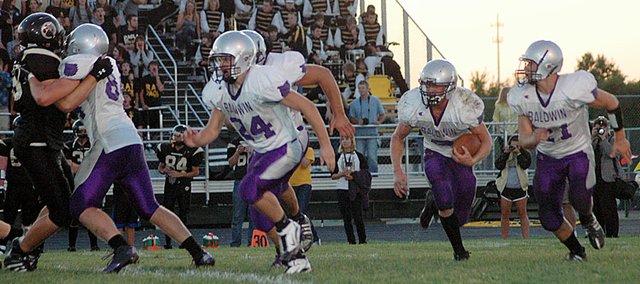 Mike Berg can point to a single reason why his Baldwin High School football team flip-flopped its record from a year ago.
Baldwin's 2009 campaign finished in dismal fashion with a 62-0 loss to Bishop Miege, who went on to win the Class 4A state title. Baldwin's record was 2-8 last year after beating Santa Fe Trail and Perry-Lecompton in district action. Both opponents were winless entering their games against Baldwin.
The Bulldogs lost only four seniors from that 2-8 squad. This year's team turned a 2-8 season into a distant memory with a 10-2 campaign that ended in the state quarterfinals.
Berg knows it's all because of his players work in the offseason. He said it during the summer and at the beginning of the season.
"They took that as a challenge," Berg said. "We stumbled last year, but we had a lot of returning players, and they took it upon themselves to work hard and not let that happen again. The young kids followed them. You can't ask for more than that as a coach."
His players agreed.
"Our senior season was very successful," senior Josh Hoffman said. "I felt like we showed everyone that the tradition of Baldwin football was still there. I know that every kid and coach on the team takes great pride knowing that we did everything we could to get to that goal."
Baldwin's returning players began lifting weights and working on the 2010 season just two weeks after the 2009 season ended. The Bulldogs got stronger during the winter and spring. They continued their hard work during the summer up until their first day of practice.
Despite Berg's confidence in his players and their improved strength and work ethic, no one knew what to expect when the season opened Sept. 3 at Paola. Baldwin lit up the highly ranked Panthers with a 32-14 victory.
"Our kids weren't surprised," Berg said. "They were confident. They weren't overconfident. They were confident in their ability to execute what we wanted to do. I think they liked the system we had them in and when you like what you're doing, you're going to play harder and they played hard all season."
BHS hosted Spring Hill in week two for its home opener. Lightning delayed the kickoff for two hours. The game was stopped at halftime and the second half was played the following night. Baldwin rolled over the Broncos 42-0.
"We had a great crowd that night, and I wish we were able to finish the game that night," Berg said. "A lot of people came back the next day, and our kids played well both halves."
The Bulldogs also benefited this fall from their return to the single-wing offense. Berg introduced the old-fashioned running attack in 2007, and it helped the Bulldogs advance to the state semifinals.
In 2008, Baldwin used the single wing and finished with a winning record. In 2009, Baldwin switched its offense and never got on track.
"I think if it's not broken, don't try to fix it," Berg said. "We over coached last year, and we thought we had more of a true tailback and full back last year and thought we could run more of a pro-style offense with a quarterback. That's not what our kids were used to, so we went back to what they're used to and we're good at."
After wins over De Soto, El Dorado and St. James, the Bulldogs traveled to Louisburg for a battle of undefeated teams. The Wildcats emerged victorious, but the loss refocused the Bulldogs.
"We didn't lose any confidence," Berg said. "We knew Louisburg was a top-four team in the state. We fixed our mistakes. I couldn't be more proud of the guys. We went back to business as usual. We went back to fundamentals. We told them at the beginning of the year that they will win by being the best blocking team and the best tackling team. We tried to switch things up at practice and they executed on the field."
Baldwin rolled off five consecutive wins after the loss. BHS beat Ottawa, Santa Fe Trail, Eudora, Blue Valley Southwest and Kansas City Sumner. The Bulldogs' season ended at Paola on Nov. 12 in the state playoffs.
"I'm proud of our season," Berg said. "It didn't end when we wanted it to. We wanted to play Louisburg again at home. It just wasn't meant to be. We were one of the best teams in 4A and that's something to be proud of."
As a program, the BHS football teams finished the seasons 20-3. The junior varsity, freshman/sophomore and freshman teams went 10-1 with one loss against Louisburg.
"I'm very proud of our seniors and their leadership throughout the season," Berg said. "It's sad that it has to end so quickly. We were on a roll and we were peaking at the right time. Then all of a sudden, you blink and it's over. Those seniors should look back and be proud of what they accomplished."