BHS

directors thrilled with fall musical performance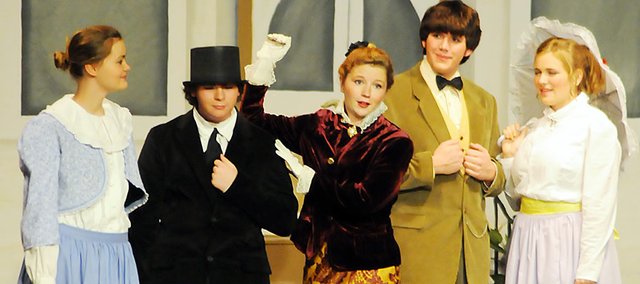 Baldwin High School teachers Katherine Cook and Beth Nelson were ecstatic about last weekend's fall musical, "Hello Dolly."
Cook and Nelson co-directed the BHS fall musical, which took the stage Friday and Saturday nights. Cook was the stage director, while Nelson directed the music.
"It's really exciting to see them come together and develop something that they are really proud of," Cook said. "They were very happy with what they were doing.
"The student had a good time with it. You never know how they feel when you start, but by the end, we had 51 kids in production crew, orchestra and cast. They all had a great time."
Nelson was also proud of the students' performances in the annual fall musical.
"The performances were unbelievable," she said. "I was so impressed and pleased with what the kids were able to do both nights. The singing was absolutely phenomenal. We have great singers here at Baldwin."
Despite the successful performances both nights, the directors were a bit worried last week. Nelson said they had some extra rehearsals to make sure everything was in working order.
The BHS students' final preparation came last Thursday to an audience of Baldwin Junior High School students.
"We are really fortunate that we do a matinee for the junior high students," Cook said. "That's where they come to realize that they have a show. The junior high students are always a most gracious audience. The kids try really hard to be responsive and appropriate. It's a wonderful opportunity for us. So when they get to Friday night, it's really not their opening night."
Senior Ann Wallsmith played the lead role of Dolly Levi in the musical. It was her first time as the lead role in a BHS musical, but not her first time performing.
"Ann has a lot of experience in our theater program," Cook said. "She's had parts in all of our musicals. She's also been in the spring play. She's been developing her skills throughout the years."
Next year's fall musical might be in the new performing arts center, which is being constructed between BHS and BJHS.
"We are already trying to wrap our minds around what would be a great show to open with," Cook said. "It's going to be cool for whoever gets the opportunity to open new performing arts center."