Winter sports season kicked off Monday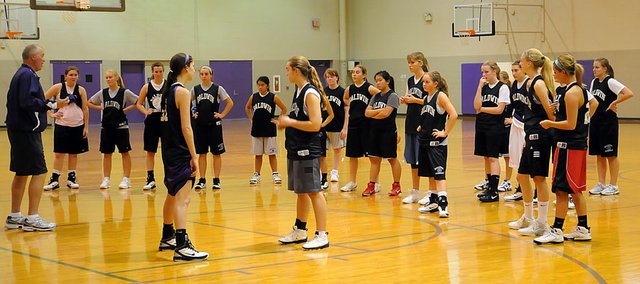 Baldwin High School's fall season officially ended Friday night, which can only mean that winter sports are just around the corner.
That corner was rounded very quickly. The winter season didn't wait long after the fall season to officially begin. On Monday afternoon, all three BHS winter sports had their first day of practice, to the delight of dozens of Baldwin High students.
"I was definitely excited to start practices," senior Allison Howard. "I'm ready to see the team build on our successes from last year and become one of the top teams in Kansas."
The BHS girls' basketball found success in March. The Bulldogs came within a made basket or two of earning a trip to Salina for the Class 4A state tournament.
Baldwin High's wrestling team also ended the 2009-2010 season with success. Bryce Shoemaker won the 103-pound state championship as a freshman, while other Bulldogs had successful state and regional tournaments.
Senior Colby Soden had success at the state tournament and arguably had one of the most-exciting matches in Salina. Monday couldn't come soon enough for him.
"Starting practice yesterday was a big relief," Soden said. "I have been doing a lot of off-season work building up to Monday, and I was ready to get started."
The BHS boys' and girls' basketball teams took to the courts Monday afternoon for the first time in more than eight months. The BHS wrestlers headed to South Gym, corner of Eighth and Chapel streets, for their practices.
Like every new beginning to a sports' season, the teams worked fundamentals during the first three days of practice. Although it's basics, the BHS athletes are excited to be with their teammates.
"Practice was really fun today," Howard said. "It felt great to get back into the swing of things. Everybody was pretty rusty but that's to be expected. We'll get it together in a few weeks before our first game."
Neither team will compete until the first weekend of December. The basketball teams will play Dec. 3 at Santa Fe Trail and the wrestlers will start Dec. 4 at Gardner.
"I am very excited," senior Kyle Pattrick said. "Basketball is one of my favorite sports, and every year I can't wait to start playing games."