City council agrees conditionally to help investors save downtown building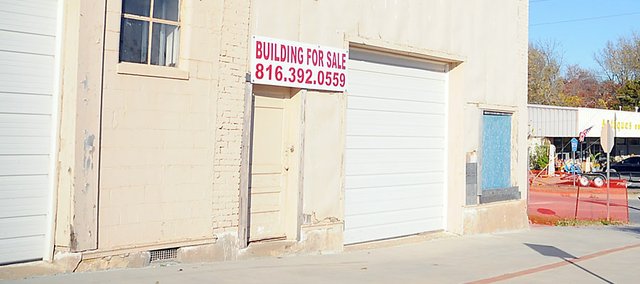 After an hour-long discussion and a 20-minute executive session with its attorney, the Baldwin City Council unanimously voted Monday not to demolish the building at 600 High Street.
The building was declared an unsafe structure in June. But at its Nov. 1 meeting, the council tabled a motion to spend $53,000 to demolish the two-story brick building. At the same meeting, a local four-member investment group proposed taking possession of the building, but action on that plan was also tabled.
The investment group asked that the city pay the past-due property taxes (about $17,000, including penalties and fees), and then provide a grant of $25,000 toward the building's rehabilitation.
Last week, Mayor Ken Wagner and City Administrator Jeff Dingman met with investors Alan Wright, Dave Hill, Bill Harmon and Rick Deitz about their plans for the building.
On Monday, the council unanimously voted to enter into an agreement with the investors. By doing that, the city will meet the investors' requests if an engineer declares the building to be structurally sound.
"What we're finding out is it's really nip and tuck whether this building can be saved financially without losing money versus just going ahead and taking the easy way and tearing it down," Wright said. "Then you'd be left with an empty lot and waiting for something else to take over that lot. I'm thankful for the folks from the city who met with us last week to talk about what it's going to take to make this work."
The city approved the agreement with the investors with the condition no city funding would be forthcoming until a licensed engineer certified the building safe.
"We have a level of expertise telling us that it is unsafe," City Administrator Jeff Dingman said. "We just need the same level of engineering expertise telling us that it's sound."
Councilman Tom Farmer asked Wright if the investors would sell the rehabilitated building, profiting from the $25,000 city grant.
Wright said he discussed that possibility with city representatives a last week's meeting and they were fine with it. Councilman Mike Magers said that if anyone purchased the building from the investors that they would probably take it in the right direction.
In other news from Monday, the council approved an ordinance to establish 20 mph speed limits on Bullpup Drive and Elm Street, which are the streets that run between Baldwin Elementary School Intermediate Center and Baldwin Elementary School Primary Center. The ordinance also calls for no parking on the west side of Bullpup Drive and either side of Elm Street.