Outgoing governor says he has no apprehension about Sam Brownback taking over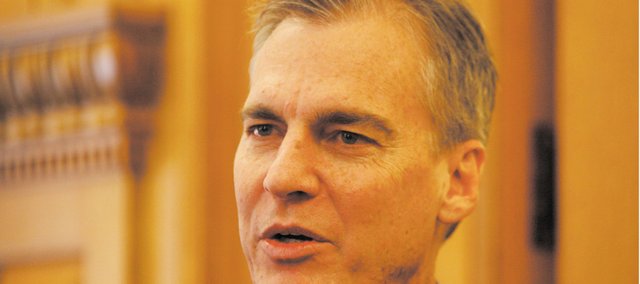 Topeka — To Democrats, buck up.
To those who think incoming Republican governor Sam Brownback is too conservative, give him a chance.
And to Brownback, who takes over in two months, don't make assumptions.
Those are some of the parting words of advice from Gov. Mark Parkinson, a Democrat, who decided against seeking election and will be leaving office.
Asked if he had any apprehensions about handing the levers of state government to perhaps the most conservative governor in Kansas history, Parkinson said no.
"I have tremendous respect for our system and for the wisdom of Kansans and Kansas voters," Parkinson said during an interview Tuesday.
He said politics flows back and forth, but "In the long run, it all tends to work out."
Cites accomplishments
In 2006, Parkinson, a former state legislator and Kansas Republican Party chairman, switched parties to run as lieutenant governor with then-Gov. Kathleen Sebelius.
When Sebelius left in April 2009 to join President Barack Obama's Cabinet as secretary of health and human services, Parkinson climbed into the top Kansas job.
With the state mired in its worst financial crisis since the Great Depression, Parkinson decided not to seek election, which he said removed a lot of politics from governing and enabled him to work better with some Republicans in forming a majority with Democrats.
Parkinson said the accomplishments of the past 18 months include balancing the budget during a historic drop in tax revenue, passing renewable energy standards, breaking ground on electric transmission line projects, adopting a transportation plan, increasing wind energy production and passing a statewide indoor smoking ban.
He has critics. The budget was balanced with the passage of a one-cent per dollar state sales tax increase, which infuriated House Republican leaders and the Kansas Chamber of Commerce.
And the renewable energy measures came in exchange for Parkinson allowing a new permit process for an 895-megawatt coal-burning electric power plant in southwest Kansas, which has raised the anger of environmentalists and is still not resolved.
Prodding regents universities
But Parkinson said the speech he gave to the Kansas Board of Regents in August 2009 may have the most lasting impact of any during his tenure as governor.
In that speech, Parkinson urged Kansas universities, which had been sliding in national rankings, to recommit to academic improvements.
"I felt like there had been too much complacency with how our regents schools had been performing," he said Tuesday.
He said now the schools, including Kansas University, have plans in the works to increase graduation and retention rates. He said he supports proposals to increase student admission standards.
"We have kids that don't belong at our four-year schools but are going there," he said, adding those students would be better served in community colleges or technical schools.
Give Brownback a chance
Parkinson will give up his job on Jan. 10, when Brownback is sworn into office. Parkinson has been selected as the next president and chief executive officer of the Washington, D.C.-based American Health Care Association and National Center for Assisted Living.
Parkinson, who has met with Brownback twice since the Nov. 2 election, has encouraged Brownback to "come into state government with a fresh set of eyes."
And he urged Kansans to help out the new governor. "I think it's very important that we give him or any new governor some space," Parkinson said.
Parkinson said Brownback faces a "huge learning curve." Even though Brownback has served in Congress for 16 years, Parkinson said the governor's job requires more work and carries more responsibilities.
As a legislator, Parkinson said, "You can pretty much say or do anything you want because at the end of the day you don't have to make it add up. When you're governor, it has to all add up."
Parkinson said he expects Brownback will have an easy time making changes in social policy, such as more regulations on abortion. But, he said, Brownback will have a more difficult time if he sets out to overhaul the budget, tax system and school finance formula.
Democrats should be proud
He said even though Democrats in Kansas suffered big defeats in the November election, they should be proud of what they have accomplished.
He said a coalition of Democrats and moderate Republicans has essentially run state government the past eight years and did a good job. "We did not waste our time," he said.
Parkinson added, "What's important is that when you are in power, you do something with it. You use your political capital. You make changes that improve the state." He predicted Democrats would rebound.
Asked if he would ever come back to Kansas and run for office, Parkinson said he had no plans to do that, but added, "It's possible."