Wildlife and parks crews set fire to dead plant material around Douglas County Lake to promote new growth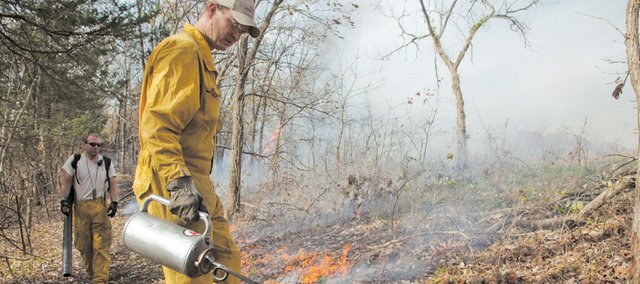 Brad Rueschhoff walked along the perimeter of the woods near Douglas County Lake, torching blankets of dead leaves as he went.
"It's the best part of the job. We're all fire bugs," Rueschhoff said. "When they need help burning, we're all ready to flock and help them."
Rueschhoff, a district wildlife biologist for the Kansas Department of Wildlife and Parks, was among a seven-man crew doing a controlled burn Nov. 9 on about 125 acres of woodland that sits southwest of the lake.
Besides being a good excuse to get out of the office, the burn will bring new life to plants come spring.
"This clears off the leaves. Later you'll see different plant communities, and plant diversity will be a lot better," Rueschhoff said.
Most controlled burns, especially those on prairie grass, take place in the spring. But burning in the fall could come with a new set of ecological benefits, said David Farmer, a KDWP public lands manager.
The hope is to reduce the amount of invasive plants, such as the softwood cedar trees, that have taken over the woods and to create a better environment for the more fire-resistant hardwood trees.
"We are trying to keep oaks and hickories thriving out here," Farmer said.
This is the second burn the KDWP has done in the woodlands off Douglas County Lake. Both are supported by a grant from the National Wild Turkey Federation, which would like to see the number cedar trees reduced.
The land the crew was burning Nov. 9 was once home to prairie grass. But with European settlement came the suppression of wildfires, which transformed the area into woodlands, Rueschhoff said.
Paradoxically, the burn is also a fire suppression technique that will benefit neighboring properties. By burning off sources of fuels in a controlled environment, if a fire were to catch in the area it wouldn't become out of control.
And, it's good for the wildlife, which have plenty of time to escape the fires being set.
"The burn is very slow moving and any snakes or frogs can sense the heat from far out and it allows them to find a safe place," Farmer said.
After the fire, animals will have more vegetation growth and an easier time finding nuts for food.