Food Policy Council tours county farms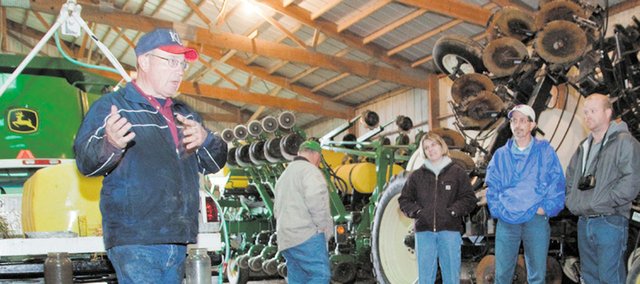 From a large-scale, 1,900-acre commodity crop operation to a 3.5-acre organic vegetable farm, the Douglas County Food Policy Council got a glimpse on Friday of just how diverse the area's agriculture industry is.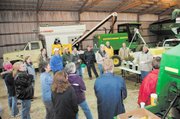 About 20 people piled into a yellow school bus Friday morning to tour the county and its farmland.
Formed last year, the Food Policy Council consists of 25 members who help advise the Douglas County Commission on how to create a sustainable food system. Friday's tour was an opportunity to give the council a deeper perspective on the producers behind the food.
"We felt like we better put our finger on the pulse of agriculture in Douglas County before we make any general policy statements," said Daniel Poull, chairman of the Food Policy Council.
What they found were large-scale farmers who felt limited by the price of land and small-scale producers who needed more markets to sell their food. And all of them said they were bound by government regulations.
"I'm not saying it is a bad thing, I'm just saying it makes it a lot harder," Mark Wulfkuhle, owner of Rocking H Ranch, said about the many regulations he has to follow. Wulfkuhle grows corn and soybeans and raises cows. His farm, which is on the west side of Clinton Lake, was the first stop on the tour.
During the visit, Wulfkuhle extolled the virtues of the no-till method of farming, where soil isn't turned over each year, keeping a complex soil structure in place. The practice, which requires new equipment and slows production in the beginning, conserves topsoil. After 25-years of no-till farming, Wulfkuhle said he used fewer chemicals on his land and saw yields that were 10 to 15 bushels higher than his neighbors'.
Asked why more farmers don't follow the practice, Wulfkuhle pointed to his head and said, "It's up here."
"Most people say that is not the way my dad did it," he said.
Stephen Kalb is definitely not doing things the way his dad did. On Friday, he displayed the GPS technology he employs to monitor the soil, fertilizer and yields on his family's fields outside of Baldwin City.
"When we are using fertilizer to enhance yields, through this technology we know exactly what we are doing," Kalb said.
Along with visiting large-scale commodity crop farms, the group stopped by one of the few remaining dairy farms in Douglas County. With a job that starts at 2:40 a.m. and ends around 6:30 p.m., Randy Flory said he's ready to retire.
"We've been at it for 36 years," Flory said. "We are tired."
With the price of milk down, Flory said, these past few years have been particularly hard for dairy farmers.
"Talk about losing money, we know how to do it," he said.
With Flory's children not interested in the demanding job, the number of dairy farms in Douglas County will drop to four when the farm sells.
Meanwhile, Jill Elmers, who grows organic vegetables inside a patch of land in Lawrence's city limits, doesn't have a problem finding those who want to pursue her trade.
But she is looking for places to sell her produce during the winter.
"During that time of year, there is a lack of places," she said. "I'd love to see the farmers' market go all year long."
Poull said the tour helped the council connect to the farmers.
"The local food system is all about neighbors feeding neighbors and neighbors supporting neighbors," Poull said. "When you say that someone is your neighbor, it's usually someone you know."