School board listens to patrons at public hearing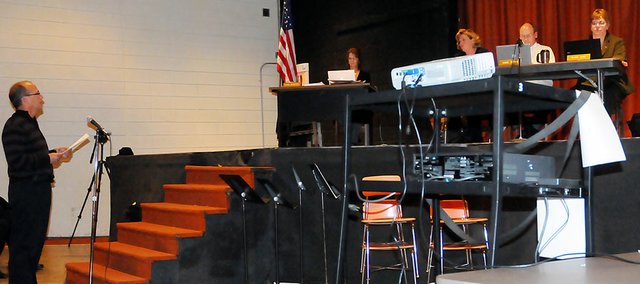 More than two-dozen Baldwin School District patrons spoke to the board of education about the proposal to close the two rural elementary schools at Thursday night's public hearing.
The highly-anticipated meeting drew a large crowd as expected, but only 25 people walked up to the front of the Baldwin Junior High School auditorium and spoke to the school board. Of the 25 people, 17 wanted the schools left open, six were in favor of the proposal and two were neutral.
Supt. Paul Dorathy opened the meeting by presenting information on state budget cuts and a possible savings if Marion Springs and Vinland elementary schools are closed. He also showed plans of how the students would fit into Baldwin Elementary School Intermediate Center and Baldwin Elementary School Intermediate Center.
Six of the first nine speakers were in favor of closing the proposal. Then 16 consecutive people stood up and opposed the proposal.
The school board didn't discuss the proposal or vote on anything Thursday night.
For more on the hearing, pick up a copy of the Nov. 18 Signal.