Baldwin High football season ends with 21-6 loss at Paola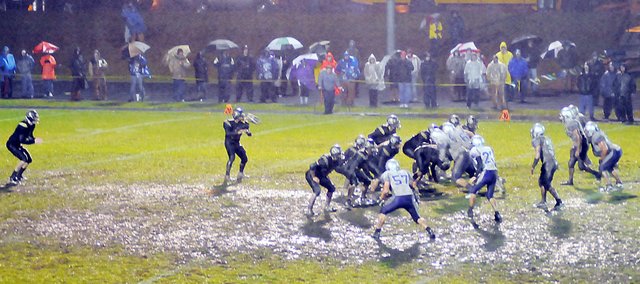 PAOLA — Three big plays by the Panthers in the first half were too much for Baldwin High to overcome here Friday night.
The Bulldogs (10-2) were beat 21-6 by Paola (9-3) in a cold, rainy game that resulted in many sloppy plays and limited offensive stats.
The Panthers' star Skylar Hawkins broke a 70-yard run on the third play of the game. In the second quarter, Paola blocked a Baldwin punt and recovered it at the BHS 6-yard line. The third big play was a 26-yard interception return by Paola during the last minute of the half.
Baldwin moved the ball down the field in the second half, but lost a fumble on the opening drive. Baldwin's final drive of the game was stopped by Paola.
The Panther will play Louisburg next Friday.
Scoring summary
P — 7 14 0 0 - 21
B — 0 6 0 0 – 6
P — Skylar Hawkins 70 run (Nick Wilson kick)
B — Ryan Rogers 4 run (Josh Hoffman pass failed)
P — Tyler Henness 6 run (Wilson kick)
P — Tyler Hieber 26 interception return (Wilson kick)