Special teams, defense give boost to
BHS

offense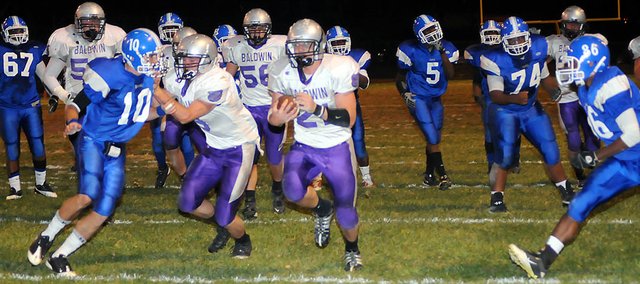 KANSAS CITY, Kans. — Baldwin High School's football rushed for 450 yards here Saturday night, but it was defense and special teams that won the contest.
The Bulldogs' offense scored touchdowns on seven of its first eight possessions. Their ground attack pounded Kansas City Sumner all night and couldn't be stopped.
Three early turnovers by the Sabres, a BHS kickoff return and another Sabres' turnover propelled Baldwin (10-1) to a 56-36 victory. BHS won the Class 4A regional plaque.
"We knew it was going to be a high-scoring game, because both teams are really good offensively," senior Josh Hoffman said. "We came out with the mentality that we were going to score every time we got the ball."
Although it allowed 36 points, Baldwin's defense forced four critical turnovers. BHS senior Ryan Rogers recovered a fumbled pitch by Sumner on the first play of the game. Baldwin took possession at the Sumner 33-yard line. Hoffman scored a touchdown four plays later.
KC Sumner did respond with a touchdown drive of its own. Then junior Asher Hannon broke the Sabres' back with an 88-yard kickoff return for a touchdown.
"We had to get a lead and keep it," Berg said. "With their passing game, they could put you away pretty quick."
Hannon followed the kickoff return with an interception two plays later, returning the ball to the Sabres' 34-yard line.
"Those were big momentum changers," Rogers said. "When we got those, it boosted our momentum. We used that to go score on offense."
Senior Landon Ausherman gave Baldwin a 21-6 lead in the middle of the first quarter with a 5-yard touchdown run. KC Sumner marched its next drive into Baldwin's territory before junior Will Simmons intercepted a pass to record Sumner's third turnover in the first quarter.
Baldwin once again ran the ball down the field. BHS went 49 yards in eight plays. Rogers finished the drive with an 11-yard touchdown run.
"We wanted to play our power football game and run all over them, because they didn't defend the run well against Basehor," Rogers said. "Tonight was our best running game of the season. Our line was so good tonight. They tore up their defensive front."
Both teams exchanged scores as Baldwin led 35-12 with 6:03 remaining in the half. KC Sumner took the next drive 89 yards to score. On the ensuing kickoff, the ball bounced off of a Baldwin player and the Sabres recovered the ball near midfield. They scored another touchdown three plays later, closing to 35-24 at halftime.
"All of the guys came out here and knew it would be a really tough game," Hoffman said. "After the first two quarters, we knew what we were up against. We went into halftime, talked it over and came out with a winning attitude."
The opening drive of the second half set the tone for the remainder of the game. Baldwin drove 65 yards in 10 plays and used 4:59 of the clock. Hoffman scored his third of four touchdowns in the game to cap off the drive.
KC Sumner responded with a score to keep the game close. Then Baldwin answered with its own touchdown to increase its lead to 49-30.
On the following kickoff, senior Kyle Pattrick recovered a KC Sumner fumble, giving the Bulldogs possession on the Sabres' 38-yard line with a 19-point lead and 10:05 left in the game.
Rogers broke free for a 21-yard run on the next play. Hoffman finished the drive on the second play by running 17 yards for the score.
"Our offensive line and running backs played so well tonight," Berg said. "Our offensive line blocked so well. Our game plan was to pound it between the tackles. We have to keep their offense off of the field. For the most, we didn't keep their offense off of the field, but if you keep racking up points, it puts them in a panic situation where they have to toss it around. We were able to get a couple of turnovers off of that."
Rogers and Hoffman gave the credit for the win to their offensive linemen.
"Our offensive line absolutely tore it up," Hoffman said. "They did a tremendous job up there tonight. They are awesome."
Baldwin only attempted four passes during the game, and three of those attempts were on Baldwin's final drive of the first half.
"They have great athletes back there, and we saw them breaking on balls last week at Basehor," Berg said. "When Basehor put the ball in the air, they were knocking it down or picking it off. The last thing we wanted to do was give them chances to create turnovers."
Baldwin will play at 7 p.m. Friday in Paola in the 4A sectional round of the playoffs.