School board public hearing scheduled for tonight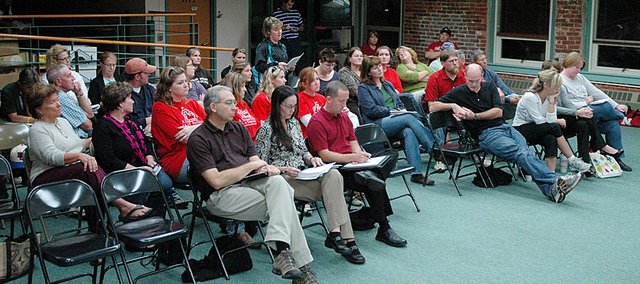 Tonight is the chance for Baldwin School District patrons to voice their opinions about elementary school consolidation.
With a large crowd expected at tonight's Baldwin School Board public hearing, Superintendent Paul Dorathy wanted to give some instructions to patrons, while presenting facts about the proposal to close Marion Springs and Vinland elementary schools.
The public hearing will start at 7 p.m. in the Baldwin Junior High School auditorium. Construction on the new performing arts center has blocked the north BJHS entrance, so entry is on the east side near the teacher parking lot.
Anyone wanting to speak at the public hearing must sign up before the meeting starts tonight.
"If they want to provide information or input that evening, they have to sign up ahead of time," Dorathy said. "They can sign up by calling or emailing Laura (Morford) at the District Office or sign up that night. But at 6:59, we have to start the meeting, so if someone walks in after that time, they won't be allowed to sign up. They need to be there early to sign up."
Dorathy said the public hearing was an opportunity for the board to see the proposal again and a chance for the public to give information, opinions or ideas. Each person has a maximum of five minutes to speak. If that's not enough time, they should bring eight copies of their information for board members.
"There will be no decision made on Thursday night," Dorathy said. "The board will make a decision at a later meeting."
Closing the schools has been on the table since last spring when the district considered responses to possible budget cuts from the Kansas Legislature.
During the past two years, the district's state funding has been cut $765,000, and state aid per pupil has dropped about $400. The school district also reallocated $360,000 to pay for teachers' health insurance in 2009.
"The bond issue was passed and things were going well," Dorathy said. "If we would have gone along and continued as we were, then none of this would be happening. When the economy starting going down and went deeper than most people would have guessed, the state started cutting its education budget. Being cut $765,000 is unprecedented in a two-year period. Trying to deal with that within a budget has been difficult to make it."
Like many districts, Baldwin has been forced to cut staff, programs and other small items to make its budget work. Dorathy said some teachers and support staff might have to be let go.
Should the schools be closed to save money, it is now thought all students could be placed in regular classrooms next year.
""The initial look we did at it showed that we might have to use other rooms," Dorathy said. "After we examined it more, it looks like all of the kids will be in regular classrooms."
Closing both schools would save the district money, but how much depends on how many staff members are cut.
"Our estimated savings is $420,678," Dorathy said. "Most of that is staff cuts. There is some savings in utilities and food service things, but most all of that is staff. However, there are other things that need to be figured into this, such as mileage between buildings and special education staffing. There are many other small things that need to be considered."