Familiar Frontier League foes will battle Friday night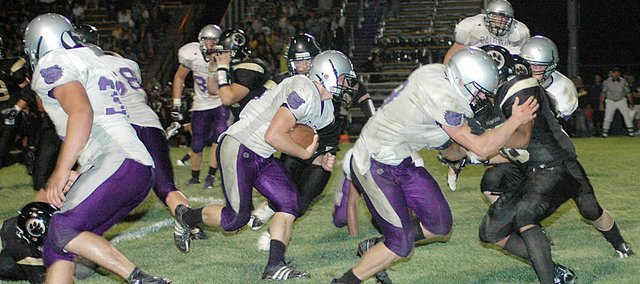 Mike Berg knows his first win of the 2010 season means nothing heading into Friday night's contest.
On Sept. 3, his underdog Baldwin High School football team traveled to highly-ranked Paola hoping to bounce back after a dismal 2009 season. After 48 minutes of in-the-trenches football, his Bulldogs emerged with an overpowering 32-14 victory.
Now, 10 weeks later, the Bulldogs (10-1) will once again be playing in Paola (8-3). However, there is a bit more on the line Friday night. The winner will advance to the Class 4A sub-state, which is the semifinal round of the playoffs.
"That was a like a preseason game compared to what this is going to be Friday," coach Berg said. "You know what you're going to get with Paola. You're going to get option, sweep and power running. They are really improved from the first week. They have a young offensive line, and they've gotten better. Their backs have gotten better, too. They are on a roll."
Of course, Paola now knows what Baldwin is all about, too. The Bulldogs have returned to the single-wing offense that took them to the 4A sub-state round in 2007. Senior running backs Josh Hoffman, Ryan Rogers and Landon Ausherman led the Bulldogs' rushing attack.
The Panthers are still led by senior running back, Skylar Hawkins. Tyler Henness also gets carries for the Panthers.
"He is their star," Berg said of Hawkins. "He has other good players around him. They have a really powerful fullback. They do a good job of being balanced."
On the other side of the ball, Berg feels good about his team's defense. Baldwin's only loss of the season came at Louisburg. The Bulldogs are 5-0 since that Oct. 8 loss.
"Ever since the Louisburg game, we've fixed our tackling," Berg said. "We got some assignments changed. We're playing really well right now and this is the right time to be playing well. We are trying to peak at the right time."
Last Saturday, the Bulldogs traveled to Kansas City Sumner and left with a 56-36 win. They also played Blue Valley Southwest on Nov. 2 and won 26-7. Paola defeated Independence, 28-0, and Fort Scott, 34-14.
"We're glad that we get a full week to practice," Berg said. "I always say the season is a marathon, and the kids experienced that having three games in just over a week. We took a first day off in two weeks on Sunday. We should be more fresh this week."
The other two teams on the east side of the bracket are also Frontier League teams. De Soto will play Friday at Louisburg. The other pair of 4A games is Buhler at Topeka-Hayden and Ulysses at Holton.
"It's really exciting and says a lot for our league," Berg said. "It shows that you have to show up every week in the Frontier League and play hard. It's a physical league. This time of the year when the wind starts blowing and the weather gets cold, you need physical teams who can run the football. That's what the Frontier League is all about."
Friday's game will start at 7 p.m. at Paola High. Although it's a road game for Baldwin, Berg is hoping the hometown fans travel to watch the Bulldogs as they have all season.
"The teams that needed to win for us to play at home didn't win, so we will suck it up and play on the road," he said. "We like playing down at Paola. They have a great field and our fans travel well. Our fans make every game feel like a home game."