Cat fight wakes couple before house fire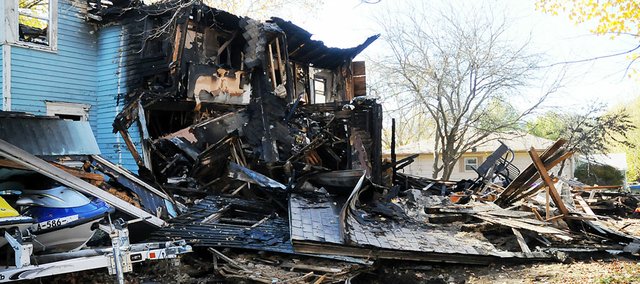 Brent and Lynnette Ojanguren woke up to their cats fighting just in the knick of time early Sunday morning.
Moments after checking on their cats, the Ojanguren's house at 217 Dearborn Street went up in flames. Firefighters arrived shortly after the 911 call, but the house was destroyed by the fire.
"We are both so thankful to be alive," L. Ojanguren said. "We're also thankful for all of the firefighters and emergency personnel."
Baldwin City Fire Chief Allen Craig said Monday that state fire investigators had not determined the cause of the fire. Craig said it likely could take several weeks for the Kansas State Fire Marshal's office to forward reports back to his department.
Crews were dispatched to the house about 1:43 a.m. Craig said the firefighters were quick to respond and arrive at the Baldwin City home, but the fire had already done extensive damage.
"When we got there, we were already in defensive mode," Craig said. "We focused on the garage and tried to save it. The whole northwest side of the house was engulfed when we arrived. We couldn't get the aerial in there, because of all of the trees. So we couldn't get on top of it. We put some ladders up and got it taken care of with some hand lines."
Firefighters battled the blaze for hours as small fires kept popping up all over the structure. Craig said they didn't completely extinguish the fire until after the fire marshall finished the on-site investigation. The Baldwin City firefighters returned to station about noon Sunday.
Crews from Palmyra, Willow Springs, Wakarusa and Wellsville fire departments all assisted. Craig said one firefighter was transported to the hospital for smoke inhalation but was released shortly after.
"The firefighters kept the fire from spreading and hurting anyone else," L. Ojanguren said. "We're thankful for that. We knew it was a tragedy for us, but we didn't want anyone else getting hurt."
The Ojangurens went to sleep between 10-11 p.m. Saturday night. L. Ojanguren said they have three cats in the house and the new cat often fights with the other male cat of the house. During the night, the cats started screeching, which wasn't unusual, but her husband went to check on the cats.
That's when he saw their dining room curtain on fire and the blaze was spreading. He alerted his wife and by the time they exited the back of the house, the entire living room and dining room were on fire.
"The smoke was billowing pretty thick," L.Ojanguren said. "We knew if we hadn't woke up just then that we might not have made it out. So, our cats saved our lives."
She was also thankful two of their children weren't at home Saturday night. She had told them to stay with their father in Lawrence, because she didn't want them driving home late at night.
"They were supposed to be with me last night," L. Ojanguren said. "They would have been upstairs and it would have been hard to get them out of the house."
She added that their family and neighbors were helping them Sunday morning. Their church has also been helping them with donations and clothes.
"Even though it was a tragedy, we feel very happy that we're alive," L. Ojanguren said. "We've already had people helping us out. We're very thankful for all of the help."