BHS

volleyball squad nabs three all-league selections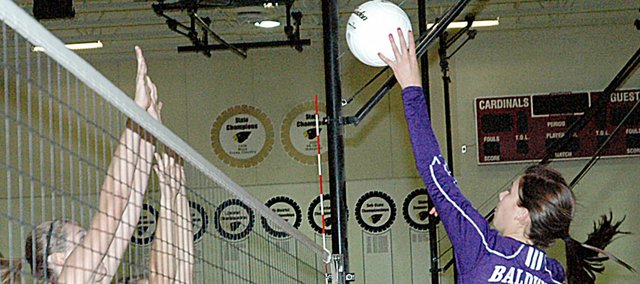 A trio of Baldwin High School volleyball players earned postseason honors from the Frontier League coaches.
Senior Ramie Burkhart led the Bulldogs as a first-team all-league selection. Junior Kaysha Green and sophomore Monica Howard were chosen as honorable mention all-league players.
"It was a nice honor for all three of those players," coach Kelly Brown said. "They deserved the recognition."
Burkhart led the Frontier League with 332 kills this season. She nearly doubled her total of 171 a year ago. Those stats along with her presence on the court in several positions made her a first-team choice by the coaches.
"Ramie played all the way around the court and she was also a setter," Brown said. "She is also a senior and seniors tend to get more votes than underclassmen.
"For Ramie, things hadn't been there yet for her in volleyball, but it was there this year. She's getting the recognition for her performance this season. She really improved as a player this year."
Although Burkhart led the league in kills, Howard wasn't far behind her. Howard recorded 308 this year, which was a huge improvement from 62 as a freshman. Green played libero for the Bulldogs this season. All three players helped the Bulldogs to a 17-20 record.
"We had a really good season," Brown said. "We had some really close games. If we had two or three points here or there, we might have won a handful of more matches. We lost to four or five teams where it wasn't close. Most of our matches were close and those couple of points matter in every match."
Baldwin lost three seniors from this year's squad, but it returns nine varsity players next fall. The Bulldogs' coach hopes the program is heading the right direction, but she knows the seniors will be missed next year.
"We will miss the seniors, but we return a lot of girls," Brown said. "There were some things that people were starting to improve upon at the end of the year, so we should be able to rely on them more next year. Some of the younger players this year will have more responsibility next year."