Ground attack leads Bulldogs past Sabres, 56-36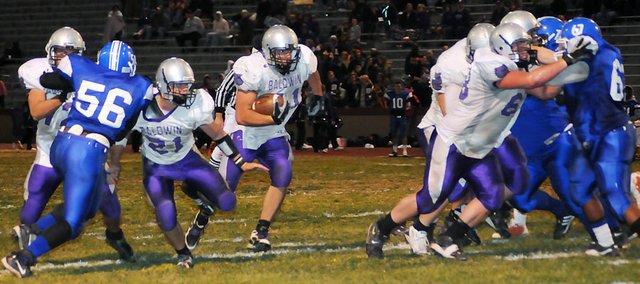 KANSAS CITY, Kans. — Baldwin High School's football team rushed for 450 yards as it ran over Kansas City Sumner 56-36 in the Class 4A regional round of playoffs.
The Bulldogs (10-1) will play at Paola Friday. Baldwin won the first contest between the two Frontier League schools by a score of 32-14.
On Saturday, the Bulldogs used early turnovers by KC Sumner to create a quick lead. The Bulldogs recovered a fumble on the first play of the game to take possession at the Sumner 33 yard line. Juniors Asher Hannon and Will Simmons intercepted Sumner passes in the first half.
Baldwin scored on four of its five possessions in the first half. The final drive of the half was ended deep in the Sabres' territory. The other score was a kickoff return by Hannon.
BHS opened the second half with three straight drives that ended in touchdowns before the younger players entered the game early in the fourth quarter.
Baldwin's next game will start at 7 p.m. Friday at Paola.
Scoring summary
B — 21 14 7 14 - 56
S — 6 18 6 6 - 36
B — Josh Hoffman 12 run (Hoffman kick)
S — Vernon Vaughn 2 pass reception from Armand Brisbane (Benny Parker run failed)
B — Asher Hannon 88 kickoff return (Hoffman kick)
B — Landon Ausherman 5 run (Hoffman kick)
B — Ryan Rogers 11 run (Hoffman kick failed)
S — Vernon Vaughn 5 pass reception from Armand Brisbane (Brisbane pass failed)
B — Hoffman 35 run (Rogers run)
S — Tyrone Battles 5 run (Brisbane pass failed)
S — Battles 6 run (Brisbane run failed)
B — Hoffman 6 run (Hoffman kick)
S — Terence Wynn 17 reception from Brisbane (Brisbane pass failed)
B — Ausherman 1 run (Hoffman kick)
B — Hoffman 17 run (Hoffman kick)
S — Parker 45 run (Brisbane pass failed)