Four consecutive state titles for
BHS

girls' cross country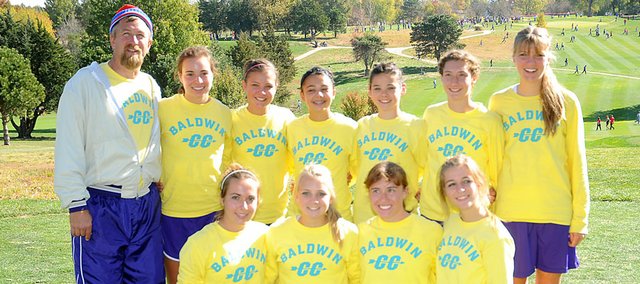 WAMEGO — Saturday's Class 4A state cross country race wasn't Baldwin High School's best performance of season, which caused some concerns following the race.
But concerns aside, the Baldwin's girls' team was so deep this fall that one of its top-three runners could finish fifth on the team on a day its usual fourth runner could be its top runner.
Despite the odd race, Baldwin still easily won its fourth consecutive state championship Saturday. Baldwin scored 58 points and won the team title by nearly 50 points. League and regional foe again De Soto finished runner-up to Baldwin with 105 points.
"We had some adversity, but we had a total team effort," coach Mike Spielman said. "We were really deep this year, and that's how you win consistently. You have to have depth so you can handle all of that stuff that happens."
Junior Elizabeth Sigvaldson credited the coach for the team's success.
"We try and handle the pressure as much as we can," she said. "We try and prepare all season for this meet. Coach Spielman does a great job on preparing us each year."
This year marked the seventh state title in the last nine years for the Bulldogs. They won the state meet in 2002, 2003 and 2005 before staking its claim the past four seasons.
"Last season was great and important for Connor (Twombly) and Julie (Hill)," senior Heather Karlin said of last year's seniors. "It was a really good season and I ran better, which is part of what made it better. This year meant a lot more, and it kind of put things in perspective. It's just really special for me."
Karlin was the lone senior on the Baldwin team this year. Dating back to last spring, she's been through a lot medically. Her junior track campaign was cut short because of medical issues. She was hampered with those issues again at the beginning of the fall season, but she returned mid-season.
"If you think about where she came from this year, it's just unbelievable," Spielman said. "By far, she deserves the best athlete of the year from what she had to go through from the end of track last year and through the summer and the start of this season. It's a huge accomplishment for her because of everything she's been through. It speaks volumes about her work ethic and character."
Hours after her final cross country, Karlin was still beaming about being the first BHS girl to be part of four state championships.
"I don't think I've felt the entire effect yet, but it's a good feeling," she said. "It's indescribable. It's a great way to end my senior year."
Karlin's teammates helped her hold the state trophy Saturday afternoon. They also helped win the state title with their performance on the Wamego Country Club course.
Sigvaldson was Baldwin's top finisher. She finished seventh for the second-straight year, but this year's time was 10 seconds faster as she ran 15:54.66.
"I was very happy with my race," Sigvaldson said. "I didn't think I was going to run that well today. I made sure I ran my race and did what I could to help the team. I just do exactly what Mr. Spielman tells me to do. Hopefully, I will next year, too."
Baldwin's sophomore duo of Sienna Durr and Kaitlyn Barnes also earned all-state honors by finishing in the top 20. Durr placed 11th while Barnes finished 19th. Both Bulldogs have been all-state runners their first two years at BHS.
Karlin was the next Bulldog to finish. She placed 21st and was less than one second from earning a state medal.
"Medaling at state would have been sweet, too," Karlin said. "But, it's just a medal. We got the trophy and that's the important thing."
Freshman Katie Jones was Baldwin's fifth runner Saturday. During the rest of the season, she was one of the top three runners. During the first quarter mile of the race Jones fell to the ground after being tripped and found herself near the back of the pack. She moved up during the race and finished 25th. Freshman Hannah Hutton (32) and junior Carol Whaley (38) rounded out the Bulldogs' runners.
"We did exactly what we needed to do today," Spielman said. "Katie fell down, but worked her way back up to the top-25 overall. That's a huge accomplishment. As a freshman, that could freak you out when you get knocked down 150 meters into the race and you get up near the back of the pack. She did a great job of moving up through the race."
Although winning the state title has become a rite of passage for the Bulldogs, they still enjoy it every year.
"It's so exciting," Sigvaldson said. "I always love winning state, and I'm sure everyone does. It's exciting to win. I just love it. It's so much fun."
Baldwin results
Elizabeth Sigvaldson, 15:54.66

Sienna Durr, 16:03.31

Kaitlyn Barnes, 16:25.64

Heather Karlin, 16:27.93

Katie Jones, 16:36.5

Hannah Hutton, 16:53.71

Carol Whaley, 17:07.18