Bulldogs beat
BVSW

, advance to play

KC

Sumner on Saturday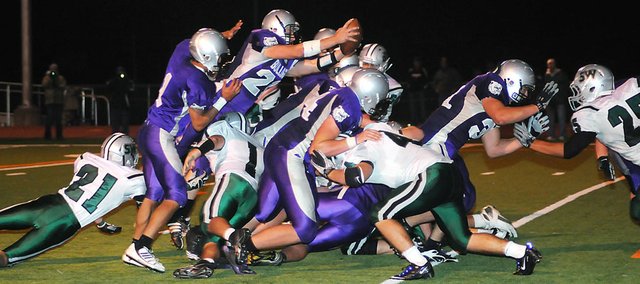 Blue Valley Southwest may have controlled time of possession, but Baldwin High School's football team dominated the scoreboard Tuesday night at Liston Stadium.
The Timberwolves ran 67 plays compared to Baldwin's 36 in the game. However, Baldwin's offense and defense came up with big plays. The Bulldogs (9-1) won 26-7 and will advance to the Class 4A state regional playoff round, where they will play at 7 p.m. Saturday at Kansas City Sumner.
"It's survive and advance at this time of the year," coach Mike Berg said. "They had a great game plan to keep the ball out of our hands. They execute the option very well. Our kids stayed patient, did their assignments and good things happened."
Baldwin's offense connected on a huge play early in the contest. On the second play of the game, Ryan Rogers connected with Josh Hoffman on a 20-yard pass. Hoffman used his speed in the open field to turn the play into an 85-yard touchdown.
"It was just the way we had it drawn up," Hoffman said. "It was beautiful. It's nice to keep the defenses honest. We don't just run the ball. We can throw, too."
To answer Baldwin's score, Blue Valley SW drove 76 yards in 22 plays on a 10-minute drive. Baldwin's Jake Mindez ruined the drive with an interception in the end zone.
After a Baldwin punt, the Timberwolves drove 59 yards in 12 plays. Braden Souders made another big play for Baldwin as he intercepted a pass in the end zone to prevent a Blue Valley SW score.
"Braden and Jake made great plays on those balls," Berg said. "We had their pass routes down pretty well. Those were big plays."
The Bulldogs responded with a touchdown drive of its own. Rogers threw a short pass to Hoffman that turned into a 43-yard touchdown reception before halftime.
"They had 39 plays in the first half and we had 13," Berg said. "We were still ahead, but you have to give their offense credit. They kept us off of the field. That kept the game as close as it was."
Baldwin stopped the Timberwolves on three fourth-down attempts in the second half and held the visitors scoreless in the third quarter.
Baldwin's power running attack took over in the fourth quarter. Senior running backs Hoffman and Rogers each scored a touchdown to seal the victory.
"It felt like we came out slow," Hoffman said. "Everybody wasn't as focused as they need to be. As the game progressed and we were getting our butts kicked, we got more focused on the field. We also started running the ball like we always do."
Hoffman added the Bulldogs' defense struggled to stop the Timberwolves' offense for most of the game. The Timberwolves ran a quarterback-read option offense, which involved many players and gave Baldwin fits all night.
"We had assignments that we were each supposed to do and when one guy doesn't do his job, somebody else has to try and make up for it," Hoffman said. "We weren't doing our own assigned jobs. That's what hurt us."
Tuesday's game might have been Baldwin's last home contest of the year. "We love playing at home," Berg said. "We had another great crowd. The weather was great. It was a great night for football."
The Bulldogs will next play at 7 p.m. Saturday at Kansas City Sumner, who beat previous unbeaten Basehor-Linwood 36-22 on Tuesday. The game will be played at Wyandotte High School, located at 2501 Minnesota Avenue, Kansas City, Kans.
"It's going to be a fun three days of practice, if you know what I mean," Hoffman joked.