Baldwin High boys back on top of state with program's 10th title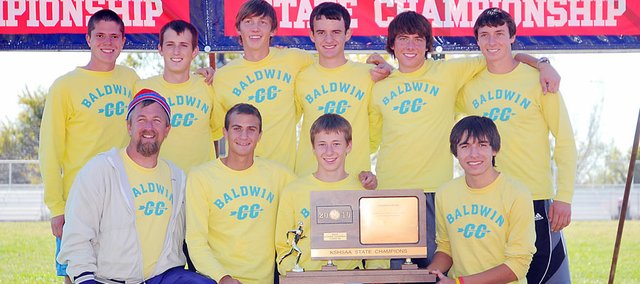 WAMEGO — Baldwin High School's drought of boys' state championships ended here Saturday.
This year was the last hurrah for the majority of the Bulldogs' team as four of the seven state runners were seniors. The two alternates for the Class 4A state meet were also seniors.
After a second-place, third-place and a fourth-place finish, this year's large senior class wanted to end their careers on top and earn the first state title since the Bulldogs won eight straight from 1998 to 2005.
"It's what we've been working for all year," senior Tony Weiss said. "We had a lot of seniors this year and this was our last chance, so there was a little bit of pressure. We were all trying really hard and to reach our goal like this is pretty cool.
"It feels really good. We've been trying for four years to get this streak started again. It's nice to get the Baldwin boys back on top. It's a great feeling."
El Dorado won the boys' title in 2006 as BHS finished runner-up. During the last three years, Mulvane won 4A boys. Now, Baldwin has won its 10th state championship.
"Mulvane had a nice streak going, but we shut them down this year," junior Brian Wright. "We got back on top of our game."
The significance of the state championship wasn't lost on the team's first-year runners.
"This season has been great," senior Brandon Baltzell said. "It's been a great group of guys to run with all year. This is really exciting. I'm really glad I came out for cross country this year. It's really awesome to win the state championship."
Baldwin was led by its four-year state medalist Weiss. He finished his career with a second-place finish behind Mulvane's Evan Landes. Weiss finished the 5-kilometer race in a time of 16:35.44.
"I was pretty happy with my race. I knew Evan would be pretty hard to beat, but I was happy to beat Angel (Vasquez from De Soto) and a lot of those other guys who had beaten me earlier in the year," Weiss said. "It's nice to come back and beat them at state, where it counts the most. It was a good last race for me."
BHS coach Mike Spielman was proud of his star senior for ending his career with a solid race.
"He did a wonderful job," Spielman said. "He found the right spot and worked his way up all race. He was a powerhouse coming home. He did a great job of leading our team as he's done every meet."
Expectations were high for Weiss when he entered high school. He lived up to those by finishing in the top four at the state meet every year. As a freshman, Weiss finished fourth. He placed runner-up in 2008 and third a year ago.
Baldwin's only other runner to place that high all four years was Matt Noonan, who remains the school's most-decorated runner. Noonan placed second before winning three-consecutive state titles.
"It's pretty cool to do that," Weiss said. "I would have liked to have one state championship in there, but to win the team title is cool. I'm really happy with that. It's been fun. I've enjoyed running at state every year."
Weiss wasn't the only BHS runner to earn an all-state honor. Freshman Ethan Hartzell also medaled Saturday. He finished sixth in a time of 16:56.85. The next freshman finished 31st.
"Ethan had a big race," Spielman said. "There are probably only two other freshman who scored that high at state for us. They are Matt Noonan and Tony. He's in with some good company."
The next four Baldwin runners finished within a 10-runner group. They were junior Tosh Mihesuah (23), junior Brian Wright (27), Baltzell (30) and senior Kyle Garcia (33). Senior Joey LaBuda (48) was the final BHS runner.
"Both of those guys did what we needed them to do for us," Spielman said of Mihesuah and Wright. "Even if you aren't on your best, you have to stay consistent. They did a great job of holding on to their spots. The guys behind them made some great moves at the end. They came a long ways through the race and finished very well."
Wright had a rough race. Near the one-mile mark, he was hit in the head by a tree branch. He began to slowly fade back from the top runners and doesn't remember the race.
"I don't remember much after the first mile," he said. "All I know is that after the race, we won the state championship. I got hit in the head about 100 meters after the mile mark. I haven't decided whether the tree attacked me or I attacked the tree. As disappointed as I was with my race, it's awesome to have our team do so well. It's a great feeling.
"It's pretty unreal that we won a state championship. It's amazing how fast the season went this year. We had a lot of quality time as teammates, and it all paid off now."
BHS results
Tony Weiss, 16:35.44

Ethan Hartzell, 16:56.85

Tosh Mihesuah, 17:41.9

Brian Wright, 17:46.12

Brandon Baltzell, 17:51.08

Kyle Garcia, 17:58.24

Joey LaBuda, 18:17.49