GOP

sweeps statewide office votes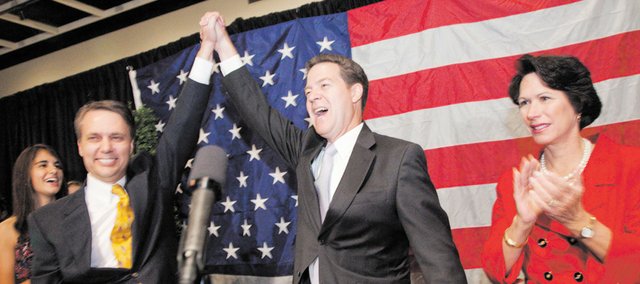 05
Kansas solidified its reputation as a red state, giving the GOP victories in its top races in balloting Tuesday.
U.S. Rep. Jerry Moran, R-Hays, received 70 percent of the vote in his race for the U.S. Senate and U.S. Sen. Sam Brownback, R-Topeka, won an early concession from the Democratic nominee in the run for the governor's mansion.
With precincts from 104 of the state's 105 counties reporting, Moran easily defeated Democrat Lisa Johnston, a Baker University administrator, 570,680 votes to 213,199. With the same number of precincts reporting, Brownback easily held off State Sen. Tom Holland, D-Baldwin City, 514,740 votes to 261,866. State election officials were still awaiting results from Montgomery County in southeast Kansas.
Republicans also won in each of the contested state office races and in the state's four congressional races.
Brownback on Tuesday night told a cheering crowd in Topeka that Republican victories Tuesday were a repudiation of President Barack Obama.
"A clean sweep for a new beginning," Brownback said. "No more Obama way. Now let's go the Kansas way."
Holland, who estimated his campaign would be outspent by Brownback nearly 4:1, congratulated the governor-elect. Holland, noting Brownback's longstanding fight for human rights in Darfur and North Korea, he was sure Brownback would show the same "compassion that all Kansans have for those in need."
In statewide races, Kris Kobach defeated incumbent Chris Biggs in secretary of state balloting, 475,497 to 299,601. Derek Schmidt won the attorney general's race, 445,445 votes to 339,808 for incumbent Democrat Steve Six. Ron Estes unseated incumbent Democratic State Treasurer Dennis McKinney, 467,031 votes to 331,101.
Holland dismissed the idea that it was simply a bad night to be a Democrat, saying "while our candidacy did not win, our cause will always endure. Our work will go on. Our party will move forward."