Baldwin advances with bi-district win over
BVSW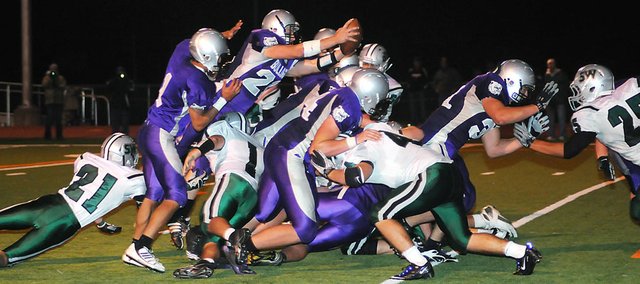 Blue Valley Southwest may have controlled time of possession, but Baldwin High dominated the scoreboard here Tuesday night.
The Timberwolves ran 67 plays compared to Baldwin's 36 in the game. However, Baldwin's offense and defense came up with big plays. The Bulldogs (9-1) won 26-7 and will advance to the Class 4A state regional playoff round.
"It's survive and advance at this time of the year," Baldwin coach Mike Berg said. "They had a great game plan to keep the ball out of our hands. They execute the option very well. Our kids stayed patient, did their assignments and good things happened."
Baldwin's offense opened the game with a huge play. On the second play of the game, Ryan Rogers connected with Josh Hoffman on an 85-yard touchdown pass.
Blue Valley SW drove the ball 76 yards in 22 plays on a 10-minute drive. Baldwin's Jake Mindez ruined the drive with an interception in the endzone. After a Baldwin punt, the Timberwolves drove 59 yards in 12 plays. Braden Souders made another big play for Baldwin as he intercepted a pass in the end zone to prevent a Blue Valley SW score.
"Braden and Jake made great plays on those balls," Berg said. "We had their pass routes down pretty well. Those were big plays."
The Bulldogs responded with a touchdown drive of its own. Rogers threw a short pass to Hoffman that turned into a 43-yard touchdown reception before halftime.
Baldwin stopped the Timberwolves on three fourth-down attempts in the second half. Baldwin's power running attack took over in the second half. Senior running backs Hoffman and Rogers each scored a touchdown.
The Bulldogs will next play at 7 p.m. Saturday at Kansas City Sumner, who beat previous unbeaten Basehor-Linwood 36-22 on Tuesday.
Scoring summary
BV — 0 0 7 0 – 7
B — 6 8 0 12 – 26
B — Josh Hoffman 85 reception from Ryan Rogers (Rogers run failed)
B — Hoffman 43 reception from Ryan Rogers (Hoffman run good)
BV — Kyle Scheumann 47 run (Ben Lewis kick)
B — Hoffman 20 run (Hoffman kick missed)
B — Rogers 1 run (Rogers pass failed)