Bulldogs beat Eudora to win district, will play at home Tuesday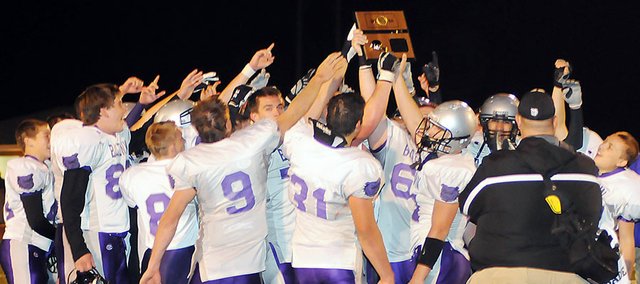 Photo Gallery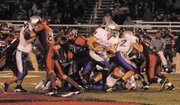 Baldwin defeats Eudora to take district crown
Josh Hoffman had 18 carries for 140 yards as Baldwin beat Eudora in a clash of teams previously undefeated in Class 4A district football play Thursday.
EUDORA — Thursday's Frontier League battle between rivals was a tale of two halves, but Baldwin High emerged victorious as it beat Eudora 20-13.
Baldwin (8-1) clinched the Class 4A district title and will host a home game Tuesday. Eudora (6-3) finished runner-up in the district and will play on the road next week.
"Our goal was to be district champs and play at home next week and we got both of them," BHS coach Mike Berg said. "We are excited to be playing at home next week."
The Bulldogs dominated the first half and took a 20-0 lead into halftime. They scored touchdowns on three of their four possessions in the first half. Senior running backs Josh Hoffman and Ryan Rogers led the Bulldogs on the ground and combined for all three touchdowns.
In the second half, both teams' offenses stalled in the third quarter. Eudora mounted a comeback in the fourth quarter by scoring two touchdowns.
The Cardinals took possession of the ball with 1:26 remaining from its own 25 yard line. They threw a wide receiver screen pass and it was fumbled by the receiver. Baldwin's John McCall recovered the ball and seal Baldwin's victory.
Baldwin will next play Blue Valley Southwest at 7 p.m. Tuesday at Liston Stadium.
Scoring summary
B — 6 14 0 0 – 20
E — 0 0 0 13 – 13
B — Josh Hoffman 46 run (Hoffman kick blocked)
B — Ryan Rogers 3 run (Rogers pass failed)
B — Rogers 3 run (Rogers run good)
E — Derek Webb 19 reception from Christian Richardson (Jacob Beck kick)
E — Webb 1 run (Beck kick wide left)