State track blog: Day 1 — Kehl improves school record, finishes third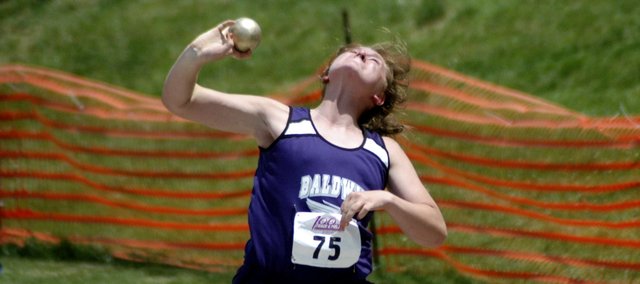 Photo Gallery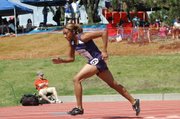 BHS state track day 1
Baldwin High School's track and field teams began their competition at the state meet in Wichita on Friday. The Bulldogs earned two third-place medals and qualified for finals in five events.
WICHITA — Tony Weiss hit the track running … fast this morning at the state track and field meet here.
The Baldwin High School junior ran his fastest time ever in the 3,200-meter run and earned his best place ever.
Weiss' time of 9:45.18 broke his former top time by more than 10 seconds. It was also good enough for a third-place finish, as he edged out De Soto's Angel Vasquez, who ran 9:46.33.
Weiss ran 9:57.93 last year to place fifth in the race. The 3,200 was the first of Weiss' three events. He is also scheduled to run the 1,600-meter run and the 3,200-meter relay Saturday.
In the afternoon, BHS freshman Katie Kehl improved her school record in the shot put. Kehl threw 41 feet, 5.5 inches on her first attempt in the finals. That throw put her into second place, but KC Sumner's Stephanie Nelson passed Kehl on her last throw. In the end, Kehl finished third, also behind Ottawa's Kearsten People's, who improved her state meet record at 51-10.75.
Kehl will throw the discus, along with junior Allison Howard, at 8 a.m. Saturday.
Baldwin had final results from four other final events today. In boys' shot put, freshman Dayton Valentine finished 10th with a throw of 46-3.5. Junior Jesse Austin placed 13th as he threw 44-10.5. Valentine and Austin also competed in the discus. Valentine placed 14th in the event, while Austin fouled on all three attempts.
The other two final events were the girls 3,200-meter run. Freshman Sienna Durr finished 16th in a time of 13:49.68. Junior Carson Barnes long jumped immediately after the 1,600-meter relay. He finished 15th with a jump of 19.3.
Baldwin also competed in several preliminary races today and qualified for the finals in five events. The girls' 400-meter relay ran 50.88 to qualify sixth. The relay members were juniors Myranda Behrens, Sammi Meisenheimer, Ramie Burkhart and senior JaBryanna Wellington.
Wellington then qualified in the 400-meter dash. She won her heat in a time of 59.5 to have the third fastest time in prelims. In the 300-meter hurdles, Burkhart and Behrens qualified seventh and eighth. They ran their fastest times ever, running 47.27 and 47.3. Freshman Monica Howard ran her fastest time (50.12) in the 300 hurdles and finished 14th.
The Bulldogs also qualified in the final races of the day. Both 1,600-meter relay teams advanced to Saturday's finals. The girls' relay ran 4:03.11 to narrowly win its heat. That time breaks the school record, which was set last year in the prelims when the Bulldogs ran 4:03.77. In the boys' race, Baldwin placed fourth in their heat and sixth overall with a time of 3:28.8. Both relays will cap off the meet Saturday evening.