Throwers propel
BHS

boys to regional track title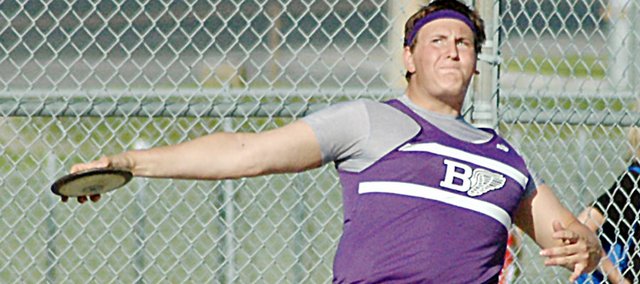 Photo Gallery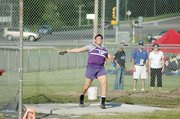 BHS boys win regional track and field meet
Baldwin High School's boys' track and field team won the Class 4A regional meet in Tonganoxie Friday. The Bulldogs qualified for the state meet in nine events.
TONGANOXIE — Jesse Austin and Dayton Valentine tossed the Baldwin High School boys' track team in the right direction early Friday afternoon.
At the Class 4A regional meet here, the boys' shot put was one of the first events to finish. Baldwin's pair of competitors threw their best throws ever as they both qualified for the state meet in Wichita.
The 14 team points earned in the shot put was the catalyst for the Bulldogs' team success Friday. They won the regional with 81 points, just ahead of De Soto, which scored 76.
"We had a really good meet and everybody did a really good job of competing," coach Mike Spielman said. "We had a couple of things that were setbacks, but we did a nice job of refocusing. Everybody did a great job Friday."
Austin and Valentine entered the finals of the shot put sitting in second and fourth place. On his second throw in finals, the freshman Valentine threw more than two feet further with a toss of 47 feet, 1.5 inches. Not to be outdone, the junior Austin edged out Valentine with a mark of 47-2.5.
The battle continued on their final throw. Valentine again improved his mark as he threw the shot put 48-0.5. However, Austin narrowly beat him again on his final throw. Austin's final mark was 48-2. They finished second and third in the event.
"It's really fun," Valentine said. "Jesse and I have fun competing against each other. It's a lot of fun."
Austin and Valentine's success in the shot put spilled over into the discus. Valentine once again threw his best throw of the season with his final mark of 136-8. Austin again beat him, as he threw 140-1. They placed second and fourth. Together they scored 26 points for the Bulldogs.
"They threw so well," Spielman said. "Dayton had two huge PRs — 6 feet in the discus and 3 feet in the shot put. Jesse had a PR in the shot put by a foot. They got us off to a great start for the day. It's their first time doing high school track, so they've done a great job."
Their regional throws have them sitting ninth and 10th in the shot put and eighth and 14th in the discus. They will compete in both events Friday.
"I had two big PRs today," Valentine said. "I'm really excited about that. I really wasn't expecting to go to state, so it's very exciting."
The shot put and discus were two of the nine events that the BHS boys' team qualified in Friday. The only other field event was the long jump. Junior Carson Barnes jumped 20-7.25 to place fourth in the event.
The other qualifying events for the Bulldogs were on the track. Junior Tony Weiss led the charge on the track by qualifying in his two distance races. He not only qualified for state, but he also won the races.
In the 1,600-meter run, Weiss and De Soto's Angel Vasquez battled for second place most of the race behind Santa Fe Trail's Josh Whittaker. Around the last curve, Weiss switched from his distance running gear to his sprinting speed. He passed Whittaker and held off Vasquez, winning in a time of 4:44.26.
"We talked about just qualifying, but he is such a competitor," Spielman said. "He felt really good and that's a great thing. When you have that confidence, you can go when you want and how you want. It's good to do that, because at state he's going to need that turnover at the end."
The 3,200-meter run was a similar race. Weiss and Vasquez ran neck-and-neck for the majority of the race. Once again, Weiss edged out the Wildcat at the end with his sprint. Weiss ran 10:12.65 to win the race.
"I just wanted to qualify in both races," Weiss said. "At the end, I don't know what happened, but I just didn't want to lose. If you've got it in you, might as well go for it, I guess. We've been working more on speed in practice. I usually don't like it, but I guess it's working. I couldn't do any of this without coach Spielman. He's a great coach and got me where I am today. He knows what he's doing."
Sophomore Tosh Mihesuah also qualified in the 3,200. He placed fourth in a time of 10:33.4.
"Tosh ran really well and I was happy to see him qualify also," Weiss said. "He has had a great season and has improved a lot this year."
Baldwin's two other individual qualifiers came in the 400-meter dash and 800-meter run. Sophomore Asher Hannon placed third in the 400 in a time of 51.87 seconds. In the 800, sophomore Brian Wright ran 2:02.95 to finish third.
Hannon and Wright teamed up with junior Josh Hoffman and Barnes to run the 1,600-meter relay. The Bulldogs finished second to Tonganoxie in a time of 3:31.64.
The Bulldogs' other qualifying event was the 3,200-meter relay. The relay team placed third, as it ran 8:34.85. The team members were Weiss, Mihesuah, sophomore Chip Kueffer and Wright.
Despite the success of the team, there was one significant injury Friday. Sophomore Dayshawn Berndt went down with a leg injury during the 200-meter dash prelims. His loss was felt in his individual races and the 1,600 relay.
"That's one that really hurts," Spielman said of Berndt. "I feel really bad for him, because he's worked so hard and he was running so well. He was going to do well that meet and this week. The good thing is it sounds like it might not be a big-time injury for him."
The Bulldogs will begin competing at the state meet in Wichita Friday morning and finish Saturday evening. The meet will take place at Cessna Stadium on Wichita State University's campus.
"I hope it's going to be a really good meet," Weiss said. "The team is competing well and we qualified a lot of people. It will be chance for everyone to show why they've worked hard all year."