June will be busy month again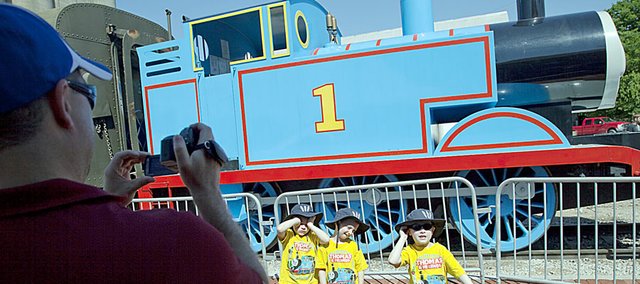 If it's just about to get real busy in Baldwin City, June must be near.
"Absolutely," said Ivan Huntoon, president of the Baldwin City Chamber of Commerce. "June is always a crazy month. There's Planes, Trains and Automobiles, there's Thomas the Tank Engine, there's Battle of Black Jack.
"I'm looking forward to it," said Huntoon.
Although there's excitement this weekend with the Baldwin City Municipal Swimming Pool opening Saturday and the annual Memorial Day service at Oakwood Cemetery on Monday, next weekend really heats it up.
The first of two weekends of Thomas the Tank Engine starts June 4 and runs through June 6 at the Midland Railway Depot. It annually brings thousands of people to Baldwin City for a ride on the television cartoon character train.
June 5 is the 154th anniversary of the Battle of Black Jack at the historic location east of town. This year it will include a reinactment of the battle. The festivities begin at 9 a.m. and more information will be in next week's Signal.
The annual city-wide garage sale, which also brings a host of people to town, is also on June 5. It lasts all day (some sales start on June 4 and some continue June 6). More information is available from the Friends of the Baldwin City Public Library, which organizes the event every year.
Thomas the Tank Engine will again be making the familiar "Toot, toot, toot" he's known for the weekend of June 11-13. That same weekend will also have the annual city-wide cleanup. More information on that will be in next week's Signal.
On June 18, the Baldwin Community Arts Council will host its first Art Walk of the summer. They will be held on the third Friday of each month.
Then on June 19, it's Planes, Trains and Automobiles, the annual event that celebrates Father's Day, which is that weekend. The event will again have locations in downtown Baldwin City, plane rides at the Vinland Airport and train rides at the depot. More information on that will be in upcoming issues of the Signal.