BHS

girls track qualifies 10 events for state
Kehl sets school discus record
Photo Gallery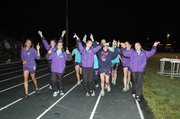 BHS girls dominate regional track and field
The Baldwin High School girls' track and field team easily won the team championship at the Class 4A regional in Tonganoxie.
TONGANOXIE — Katie Kehl broke down another Baldwin High School throwing barrier Friday at the Class 4A regional track and field meet here.
On Friday, the BHS freshman claimed her second school record. She broke the shot put record at the first meet of the season before improving that mark at the Redbud Classic on May 7.
Kehl made it two-for-two on school records during her freshman campaign on Friday. She won the event and junior Allison Howard finished runner-up to score the team 18 points. The BHS girls' squad easily won the meet with 112 points. Tonganoxie placed second with 65 points.
"We had another outstanding meet," coach Ted Zuzzio said. "Our effort was great in every event and the results show it. I don't know where to begin. From the field to on the track, everybody did wonderful. We had a school record in the discus and went one, two in it, too."
Kehl broke Howard's school record on her first attempt Friday. She threw 128 feet, 4 inches to start the event. Her next throw would be her best. Kehl's mark of 130-2 would win the event and set a BHS record.
"I loved it," Kehl said. "During AAU track, I'd always throw good at regionals, so I thought I might throw good today, too. I felt quick today and really balanced. I'm usually off balance. I knew it was a good throw. I could feel it."
Howard threw 118-6 to finish second. She will be going to state for the third year in the discus. She's scored in the event as a freshman and sophomore.
"I'm definitely happy to go to state again," Howard said. "I'm not too happy about my throws, but there's no use in wasting them at regionals."
Kehl also qualified for the state meet in Wichita in the shot put. She threw 39-6.5 to finish runner-up in the event.
"It was an exciting day," Kehl said. "I threw my best throw ever in the discus. I did OK in the shot put, but not my best. I'm super excited for state. I'm glad that I made it. I'm a freshman, so I'm a little nervous, but excited at the same time."
Those were the only two field events in which the BHS girls' team qualified for the state meet. On the track, the Bulldogs will be sending participants in eight events, including all three relays.
Senior JaBryanna Wellington will be heading to her final state in all three of her events. She won the 400-meter dash and helped the 400- and 1,600-meter relays qualify, too. She ran 1:01 to win the 400 by more than one second.
"It was really exciting," Wellington said. "I wasn't sure how the competition would be, so I was kind of worried. Then I won and it was very exciting. I ran a good time, too."
Wellington also anchored the 400 relay to a third-place victory. The relay team finished in a time of 52.11. Running on the relay were juniors Myranda Behrens, Ramie Burkhart and Sammi Meisenheimer.
"I'm so ready for state," Wellington said. "I'm ready to run my best times and see how good the team can do. It's been a good season, so I hope we finish it well."
The 400 relay lineup has changed twice since the Bulldogs lost junior Lyndsey Lober to a season-ending knee injury. Lober also participated in the 100-meter hurdles and 1,600 relay.
Despite Lober's absence, the 1,600 relay team has won all three meets since Lober's injury. On Friday, the relay capped off the meet with a four-second victory in a time of 4:10.96.
"It was a nice finish to the meet," Wellington said. "It was hard to push at the end, because we were so far ahead. I pushed a little, but not too much. We already had the race won."
Also running on the relay are sophomore Elizabeth Sigvaldson, senior Connor Twombly and freshman Kaitlyn Barnes. That trio also teamed up with sophomore Carol Whaley to win the 3,200-meter relay to begin the track events.
"Yeah, it feels awesome," Sigvaldson said. "We didn't run our season's best times, but we ran well and we won both races. It was a lot of fun. It's nice to have similar teammates on both relays. It helps our team chemistry."
The 3,200-relay team cruised to a 17-second victory, as it ran 9:58.71. The Bulldogs finished runner-up in the race at state last year, but they hope to improve upon that this year.
"My ultimate goal is to come home with two gold medals," Sigvaldson said. "I'm super excited for state."
In the individual races, Barnes qualified in the 800-meter run. She finished runner-up in a time of 2:24.66. Freshman Sienna Durr placed third in the 3,200-meter run. She ran 12:31.67, which will be good enough to send her to Wichita.
Baldwin also sent three runners in the hurdle races. In the 100 hurdles, Burkhart finished second, as she ran 16.75. Burkhart also qualified in the 300-meter hurdles, as she placed second again, in a time of 48.08. Also qualifying in the 300 hurdles was Behrens (third, 48.27) and freshman Monica Howard (fourth, 50.67).
"Our hurdlers ran well," Zuzzio said. "Those were some exciting races. It's exciting to finish two, three and four in the 300 hurdles. I can't be prouder of them."
The Bulldogs will begin competing at the state meet in Wichita Friday morning and finish Saturday evening. The meet will take place at Cessna Stadium on Wichita State University's campus. The first race will be the 3,200 run at 7:45 a.m. Friday.
"We'd sure like to bring home some hardware," Zuzzio said. "We're going to bring home some medals, but we'd like to bring home a plaque or trophy, too."