Baldwin High graduates urged to have inspired lives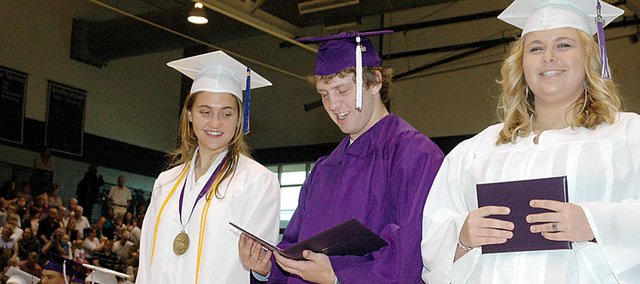 Billy Coleman's childhood tale inspired Amy Wintermantel to deliver the Baldwin High School commencement address Saturday morning.
Wintermantel, a 1981 BHS graduate, spoke in great detail about Coleman's life in the book "Where the Red Fern Grows." It's a children's novel by Wilson Rawls about a boy growing up in the Ozarks. He saves enough money to buy two coonhounds.
The book tells about their adventures and tragedies, but Wintermantel used Coleman as an example. She said he lived an inspired life, not a required life, and that was her message for the 74 graduates.
"What I do believe in and what I feel very committed to is my control over my attitude and my choices," Wintermantel said. "And this is where I give you the main idea of my speech — the title I've had for four weeks — but no content until last night — the crux of what I want you to chew on.
"Dreams aside, we get to decide if we lead a required life or an inspired life," she said. "To explore that topic just a little we're going to go back to that great grade school classic that probably most of you read or had read to you — 'Where the Red Fern Grows.'"
She used examples from the story to tell the differences between inspired and required people. She said people who live required lives are grumpy or negative, but inspired people are the ones you enjoy being around. She also said required people are takers and inspired people are givers.
Wintermantel quoted a line from the book before giving her final message. In the book, Coleman buries his final dog and says, "You were worth it, old friend, and a thousand times over." Wintermantel encouraged the BHS graduates to lead a life like Coleman's.
"Graduates of 2010, when you make the decision to own your choices, to think about the person you want to become and realize that every action you take and every decision you make is getting you closer to filling your K.C. Baking Powder can — to hearing those 'chinkles' — or further away — to lead an inspired life nickel by nickel and dime by dime — one moment at a time," she said, referencing the story. "Then you will have an inspired life and not a required life and with deep contentment and satisfaction you'll be able to say — it was worth it, a thousand times over."
Wintermantel taught at the elementary level in the Baldwin School District for several years. She is now an assistant professor of education at Baker University.
A pair of graduates also spoke at Saturday's ceremony. Brian Lamoreux and Kaylin McCrary represented the class with their speeches.
"High school has been tough," McCrary said. "For some, it was tough maintaining a 4.0 GPA all four years. For others, it was hard to get to class every day and pass with a D or a C. For some, it was tough to get involved or be social. Others found different things tough. But the truth is this is nothing compared to what we are about to face."
Lamoreux spoke about how fortunate their generation is now, because of the opportunities and the education they have received. At the end, he had one final message for his classmates.
"Seniors of 2010, go out and be successful," he said. "Count your blessings and live happy lives. Realize how far you've come and learn new things."
Connor Twombly, senior class president, presented the class gift to BHS Principal Shaun Moseman. The class of 2010 will be giving the school a bronze bulldog statue.
Of the 74 graduates, 21 of them earned an academic honor rope to hang around their gown. Fifteen of those 21 earned the honor-with-distinction title, which requires a cumulative GPA of 3.8 or higher. (See listing elsewhere.)
One of the honor-with-distinction graduates was Julie Hill. Before the ceremony, she thought it was going to be emotional, but after, she was joyful.
"It was really exciting," Hill said. "It was kind of sad, too, but more exciting to move on with our lives. I thought I was going to cry, but I didn't. I was actually really happy."