Long delivers commencement address to Baker graduates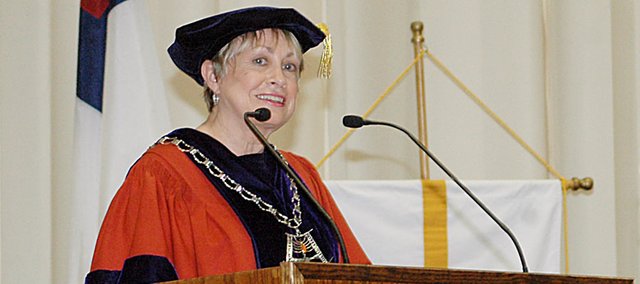 Baker University President Pat Long kept her keynote address short Sunday afternoon, but her message for the 2010 graduates was simple.
The 28th president of Baker University advised the 170 graduates to "look up" and don't always be caught using today's technology.
"My message for you is just to take a moment once in a while and breathe," Long said. "You're always texting, tweeting and Facebooking, but don't forget to look around once a while. That's my message to you — look up and breathe."
This year's graduating class came to Baldwin City and Baker at the same time as Long. In 2006, she became the first woman president of the storied university. Sunday's graduates were freshmen during her first year, making this class extra special for her.
"It has been the highest privilege of my life to be your president," she said. "Class of 2010, I will always remember you. I wish you the best and God bless."
After the ceremony, Long did admit she was emotional during her address, but is happy and proud of her graduates.
"Today was so exciting," Long said. "To see the parents and the students and everything they have achieved in their time here is very exciting. It's a great day for Baker.
"Every year has been emotional, but these students I've seen for four years," she said. "One of my students just told me, 'I'm not the same person I was four years ago. Don't you remember me?' I said I do remember. Today is a beautiful day and I was so happy we got to do the walk."
Baker graduates participate in the annual commencement tradition walk through their honored gate and through the campus. Bagpipe players, from the Kansas City St. Andrew Pipes and Drums, led the processional.
There were 130 graduates from the College of Arts and Sciences (CSA), located in Baldwin City, and 40 from the School of Nursing in Topeka on Sunday. One of those was Jeremy Wright, a 2006 graduate of Baldwin High School, who was one of the CSA graduates.
"This is a very exciting day," Wright said "Those four years went by really fast. I had a really good experience here, especially being able to play baseball and get a good education."
Jessica Hill also graduated from BHS in 2006. She spent her first year in Manhattan at Kansas State University. Then she transferred to Baker. Three years later, she was happy with her choice to move back home.
"I'm glad I transferred," Hill said. "It wasn't too bad moving back to Baldwin. It definitely wasn't as bad as I first thought it was going to be.
"It's hard to believe it's finally here and now it's over," she said. "It went by really fast. I enjoyed my time here. It was a good fit for me."