U.S.

56 now open after stranded semi-tractor trailer is freed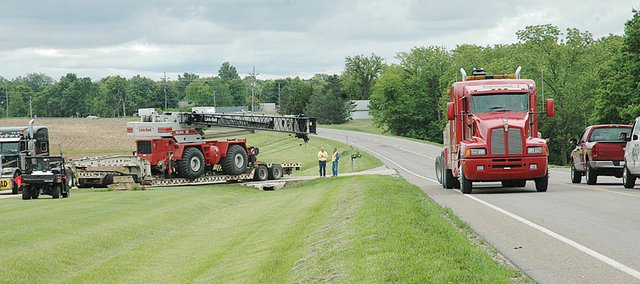 Bob Rohe had 168,000 pounds of visitor at his place last Friday east of Baldwin City. You know the place — immaculate yard, nice long driveway and that … gorilla.
It's long been a landmark for people coming through along U.S. Highway 56. It just wasn't quite what the gigantic Valley Transportation Services semi-tractor trailer hauling a massive crane was looking for.
The truck driver inadvertently confused it for a pull-off just a ways down the highway. Once he'd pulled the load into Rohe's driveway, there was no backing out.
"I came home at 8 o'clock (Thursday night) and they were here," said Rohe, adding the mistake had been about two hours earlier, as well as making a joke. "They just came to visit. I won't let them go."
Rohe had to park at a neighbor's place across the highway and walk to his house. Of course, he couldn't believe what he was seeing.
"They just thought it was a pull-off to get off for the night," he said. "They now know it was a big mistake."
It caused quite a stir. He got a call from Mayor Ken Wagner, whose Heritage Tractor John Deere location is just north of Rohe's.
"He asked me, 'What the heck did you buy?' I said I don't know, but it ain't green," said Rohe, in reference to John Deere's colors."
The trucking crew, which also consisted of trucks that led and followed the semi with the "wide load" warnings, were scratching their heads trying to figure out how to get out.
"It's a mess," said Rohe. "He said he'd never been in a mess like this."
It would take an oversized wrecker to remove the back part of the trailer the next day to get the process started. That caused the highway to be closed on and off to maneuver the trailer out.
It backed up traffic for quite a ways and Kyle Britton, a Baker student who was headed to work, was one of those caught in the backup.
"It's very inopportune," said Britton.
He got through fairly quickly, but it wasn't the end of the delays along the road. The truck driver had to maneuver the rig back and forth quite a bit and was eventually able to unhook from the main part of the trailer and remove yet another section of trailer.
Then he rehooked to the section of the trailer that was carrying the crane. More reverse, forward, reverse, forward followed until he was finally able to get back on the highway to resume the haul to Nebraska from Texas.
During the ordeal, Rohe's concrete driveway was damaged and his immaculate yard to the sides of it were rutted.
"He made it, but it's a mess," said Rohe. "I guess that's what happens when you keep your place nice."