There's a lot of fight in these Dogs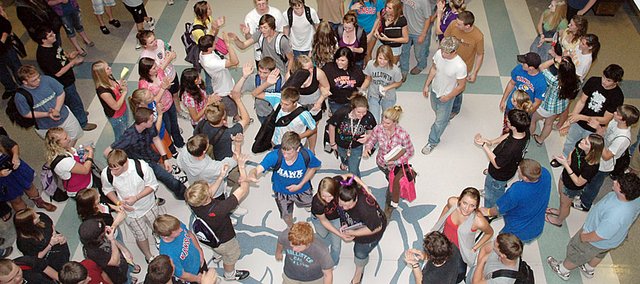 As the old adage goes, it's not the size of the dog in the fight, but the size of the fight in the dog.
Saturday's Baldwin High School graduating class will be one of the smallest in more than a decade, but that doesn't mean it's not full of successful students. The 79 Bulldogs who will walk across the stage have helped win state championships, a national championship and numerous academic honors during their four years at BHS.
"This is one of the smallest classes we've had in many years, but they still had a lot of success stories in academics and activities," BHS coach and teacher Kit Harris said. "They have a lot to be proud of."
Bret Jones, BHS assistant principal, agreed with Harris, saying the 2010 graduating class was special.
"I think this class has stood out from many others," Jones said. "There are so many top quality students. There are some extremely bright kids, and some incredible leaders. Especially for as small as the class is, you don't see the kind of talent that they have as a whole very often."
Some of the seniors also spoke highly of their classmates, whom they will no longer see every day.
"We actually have a lot of smart kids, who are going off to huge colleges on scholarship," senior Camdon Schwartz said. "We also have some people going off to play sports, too."
It was those sports teams that made some of the students who they are today. Senior class president Connor Twombly joined the BHS cross country team as a sophomore. She went on to win three team state titles and will be running at Drake University next year.
"That was the best decision I ever made throughout high school," she said. "Mr. Spielman and all of those other guys were pretty persistent. I just took a chance and it worked out really well. Now I'm going to college to run."
Twombly also participated in basketball and track, among other things, while at BHS. She also said her class has achieved numerous things, despite being the smallest class in the district.
"I don't think anybody expected much from us, because we were so small," Twombly said. "We weren't really fantastic in anything, but we were solid all the way through. I think that's what makes us stand out, because we are a small class, but we've excelled at a lot of different things.
"Basketball was especially surprising," she said. "I don't think anybody expected us to do as well as we did this year. We just kept playing hard and getting better the whole way through the season."
The small size of the 2010 class has also made it a tight-knit group. It's been that way for 12 years.
"We've always been a small class," Schwartz said. "We are closer because there are less people, so you know more people in your class."
Twombly remembers her classmates caring about her when she moved to Baldwin City.
"I moved here in second grade and practically everybody in the class wanted to play with me at recess," she said. "Everyone was always so welcoming. It was a little overwhelming for me and I was a bit confused, but I liked everybody."
Some of the students will be going to colleges in state, while others will be traveling out of state to further their education. Some will head straight into the professional world, but most are ready for the next challenge.
"I'm very ready to be done with high school and move on with my life," Mason Johnson said. "I can't wait to go to KU next year and start working on my future."
Megan Michael is one of those students who have goals, but will be starting small in pursuit of her dreams.
"I'm super stoked about graduation," Michael said. "I want to go to Hawaii University to be a marine biologist, but I think I'm going to start off with classes at Johnson County."
The seniors' last day of classes was Tuesday. They were sent out with the annual senior send off, where the rest of the students in the school line up while the seniors walk out the front doors.
On Saturday, 34 boys and 45 girls will walk across the stage. The commencement ceremony will begin at 11 a.m. in the Baldwin Junior High School gymnasium.
The ushers will be Megan Hazelwood, Colby Soden, Ryan Ward, Nate Growcock, Colton Lowe, Ann Wallsmith, Alison Howard and Heather Karlin. The two Processional Leaders are Chelsea Turk and Carson Barnes. These BHS juniors were elected by the senior class.
Speaking for the class will be Kaylin McCrary and Brian Lamoreux, and president Twombly will present the class gift.
The graduation speaker will be Amy Wintermantel, a current professor at Baker University. Wintermantel is a former teacher in the USD 348 school district, and is a graduate of Baldwin High School.
"I know her, because she is my cousin," Schwartz said. "I was at the honor banquet when she spoke one year and she did a good job of speaking and keeping it interesting."
BHS correspondent Brandon Kraus contributed to this story.