Neighbors: Bonnie Morse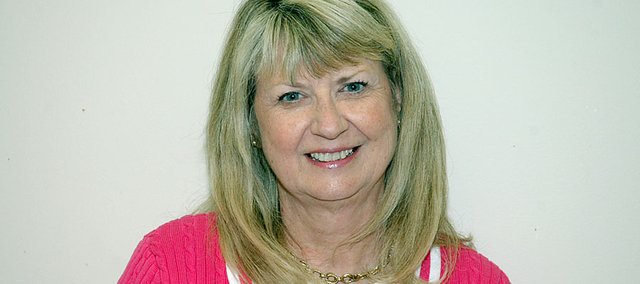 Name: Bonnie Morse
Occupation: church volunteer
Family: Husband, Bob, a retired attorney; daughter, Michelle, an attorney in Kansas City; son, Ryan, a Staff Sergeant in the Army.
Place of birth: Haddonfield, NJ
Q. How long have you lived in Baldwin City and what brought you here?
A. We have lived here 13 years. We left Olathe after 25 years to downsize and provide a place for our daughter to go to Kansas University Law School.
Q. What's the biggest risk you've ever taken?
A. Marry an Army Officer during Vietnam War. So far, it has worked for 39 years!
Q. What's the best piece of advice you've ever been given?
A. From Annette Funicello's autobiography (think Mouseketeer) after her diagnosis with MS: "Life doesn't have to be perfect to be good."
Q. What two things would you want people to know about you?
A. Scrapbooking is my obsession (look at my check book), and I am always ready for a road trip.
Q. What did you want to be when you grew up?
A. A medical doctor, but Calculus 2 ruined that idea.
Q. What's the best way for you to get away from it all?
A. A trip to Pawley's Island, SC. It is just the ocean and sand and a few shabby chic homes to rent.
Q. What's your ideal vacation spot?
A. I'm sure it would be Hawaii, but I have never been there.
Favorite things
Song: "Layla" by Eric Clapton
Movie: The Lakehouse, or anything with Sandra Bullock
Color: Pink
Food: Eggplant parmesan