Long likely to shed Baker graduation tears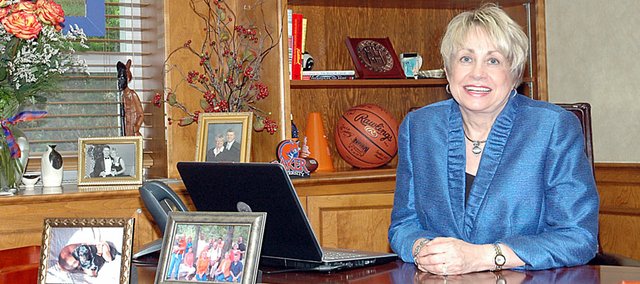 Baker University President Pat Long hopes she can make it through her keynote address Sunday to her first graduating class. She's been here for four years and so have they.
"It's unbelievable, time has just flown," said Long. "I saw them come in. From the very first I knew they would be a special class. Even before I started in July of that year, they had me come in to meetings with this class.
"I told them, 'you are my special class,'" she said. "Here it is, graduation time. It's been amazing to watch them over these four years grow and develop and get to this weekend."
There will be 170 graduates at the 1 p.m. Sunday ceremony for the College of Arts and Sciences, School of Education undergraduates and the School of Nursing. What Long intends to tell them, if she can battle through the tears, is to "look up." She explained that by doing the hand motions, while looking down in concentration, as if she were texting.
"I'm going to tell them to take some time to enjoy things," said Long. "This generation has learned to communicate by texting. That's what I'll say — look up. Even four years ago, I don't know how many of them would have been on Facebook. Now they have already met on Facebook before they meet face to face.
"Look up from there every once in awhile," she said. "I'll also say how important relationships are and to stay in touch. I love the idea, taking a breath every once in awhile. I hope I can make it through without choking up."
There's already been a lot of that. Tears have flowed when the seniors are at their last chapel or other gathering.
"Every step the last few weeks has been like — this is the last," said Long, adding that it was especially hard when the song "Lean on Me" was played. "The students were putting their arms around each other, leaning on one another, swaying to the music.
"It's been emotional for them and us to see them leave," she said.
Long also knows the current economic situation doesn't help this group of graduates. The job market is tough. Very tough.
"I think it's a real concern, not to say it's not for anyone looking for a job," she said. "Maybe one out of four, I'm guessing, already has a job lined up or is on their second or third interview. I'm guessing at least half the class doesn't have anything lined up, unless it's graduate school. Even our best students say they don't have anything lined up."
She noted one of the "best of the best" students is among those with nowhere to go. He's looking at "different alternatives," she said. Long also pointed out that this class has been through a lot, seen a lot — such as the inauguration of a new president, the 150th anniversary of Baker University, classmate Molly Larson killed in a car wreck and, of course, the budgetary problems at Baker brought on by the sinking national economy. They're used to adversity and she believes they'll be fine.
"I think our students are great at critical thinking; they are flexible," said Long.
The Rev. Ira DeSpain, longtime campus minister, who is also a Baker graduate, knows the students have benefited from Long's tutelage.
"President Long jumped in with her heart and soul as she assumed the presidency here," said DeSpain. "She has continued the legacy of putting students first in all that Baker does. She's experienced a great deal — the death of a student, Molly Larson, in 2007, and a financial crisis driven by the world economic collapse. Through it all, she has continued to lead with vision and compassion. She has the capacity of maintaining the vision of what Baker can become, in spite of day-to-day distractions.
"Some of the students who entered with her have developed into great campus leaders, with the potential now of being leaders in business, industry, the arts and education," he said.
Long sees that and much more with her first graduating class. She knows her commencement address will be hard as she fights back the tears.
"Oh, you bet it will be hard," said Long. "I can't imagine that I won't be choking up. It's been a blessing to see these students develop and grow and now they're moving on."