Final races propel
BHS

boys to league runners-up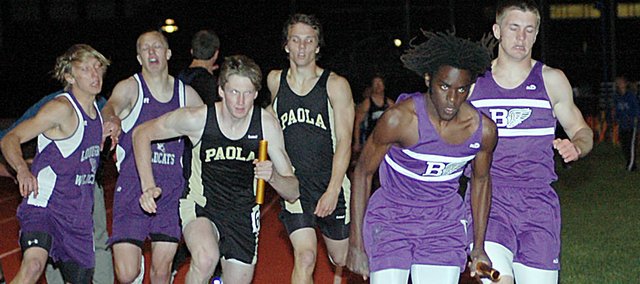 Photo Gallery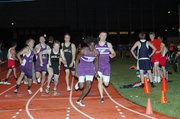 BHS boys finish runner-up at Frontier League track
Baldwin High School's boys' track and field team finished runner-up at the Frontier League meet May 13. Paola won the boys' meet.
GARDNER — Baldwin High School's boys' track and field team finished the Frontier League meet here last Thursday in typical fashion — two final victories.
A pair of 3,200-meter runners and the 1,600-meter relay team capped off a stellar meet for the Bulldogs, who jumped from fourth place to second in the last two events of the meet.

The Bulldogs were in fourth with 85 points heading into the 3,200 run and 1,600 relay. They scored 28 points in the two races and leaped past Gardner-Edgerton (106 points) and Louisburg (97) to score 113 points. Paola won the meet with 142 team points.
"It was a huge meet," coach Mike Spielman said. "Going in on paper, we are probably third or fourth, because Paola and Louisburg beat us the week before. For us to get Gardner and Louisburg this week is huge."
The comeback started with the 3,200 run. Junior Tony Weiss cruised to victory, running 9:58.59 to win the race. It was the second straight meet where Weiss dipped below the 10-minute mark.
"It felt really good," Weiss said. "Last week was the first time all season and now I've done it twice running by myself. I just relaxed and enjoyed it. I had fun."
While Weiss' victory was nice, it was expected, as his time entering the meet was by far the fastest. His teammate, sophomore Tosh Mihesuah, was the surprise for Spielman.
Mihesuah ran neck-and-neck with Gardner's Caleb Laird for most of the race. The BHS sophomore held off the Trailblazer on the final lap to finish second. Mihesuah's time of 10:22.8 was his fastest of all time.
"That two mile was unbelievable," Spielman said. "Tosh gets the 'Man of the Meet.' That made the meet for us. He held that Gardner guy off and set up our 4x400. It was another 7-second PR for him."
Those 18 team points set up the 1,600 relay for a chance of defeating the hometown Trailblazers in their final Frontier League meet, as GEHS will be leaving the league next fall. The Bulldogs trailed by a point, so the relay team would have to beat the Trailblazers to finished runner-up as a team.
Baldwin's first three legs — sophomore Asher Hannon, junior Josh Hoffman and junior Carson Barnes — gave sophomore Dayshawn Berndt a slight lead as the anchor. Berndt left his competitors behind on the first curve and never looked back.
"I wanted to run the first curve hard, because nobody goes as hard as I do," Berndt said. "For the first seven seconds, you don't feel anything. Then just keep running hard and finish strong."
The Bulldogs won the race in a time of 3:27.01, which is their fastest time of the season. Second-place Paola finished more than 2 seconds behind BHS.
"They were coming fast, but Dayshawn ran so well as the anchor," Spielman said. "We ran so well and we keep getting better each week. That's what track's all about — being down one point and trying to pass one team in the last race — and that's what we did."
Baldwin's other victory last week also came at the hands of Weiss. He completed his distance double with a 1,600-meter run win. He ran just shy of his personal best, but won in 4:34.27.
"It felt good," Weiss said. "I think it's finally clicking. I'm starting to peak, getting ready for state. Everything is just beginning to fall in place. Workouts have been going well and this just needed to happen. I just needed the chance and tonight was a great night."
BHS junior Brian Wright finished runner-up in the 800-meter run. He ran his best time of the season at 2:01.77.
"They are starting to come around," Spielman said. "Brian had two huge races in the 4x800 and the open 800. That's what we are looking for from him. Tony had his best double of the year. Both of his times tonight were 1 second from his PR in both races."
The Bulldogs scored in nearly all other events at the meet. Berndt placed third in the 100- and 200-meter dashes. He ran 11.21 in the 100 and 22.51 in the 200. Hannon and Hoffman finished third and fourth in the 400-meter dash, running 52.17 and 52.2 seconds.
Barnes placed third in the 300-meter hurdles, finishing in a time of 42.12 seconds. The 3,200-meter relay team placed second in 8:35.2. The relay team members were Wright, Mihesuah, sophomore Chip Kueffer and junior Kyle Garcia.
In the field events, junior Jesse Austin and freshman Dayton Valentine placed fourth and fifth in the shot put. Austin threw 45 feet, 7.5 inches and Valentine's mark was 44-7. Senior Patrick Pinault finished third in the javelin at 163-1.
"Other than the high hurdles, we scored in every event we had somebody entered in," Spielman said. "Austin had a great race going in the hurdles, but tripped on the seventh or eighth hurdle. He would have made finals, too."
The Bulldogs will compete at the Class 4A regional Friday at Tonganoxie. The field events begin at 3 p.m., with the prelims at 5 p.m. and finals at 6:30 p.m.