BHS

girls finish second at league track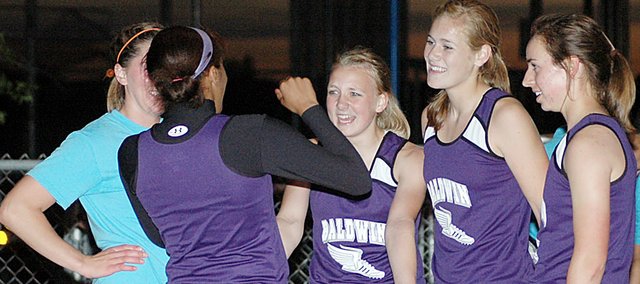 Photo Gallery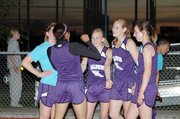 BHS girls place second at league track
Baldwin High School's girls' track and field team placed second at the Frontier League meet May 13. Gardner-Edgerton won the meet.
GARDNER — Connor Twombly finished her final Frontier League meet with victories at the beginning and end of her meet here last Thursday.
Twombly competed on a pair of relays where the Bulldogs dominated. The first kicked off the meet, while the second brought a smile to Bulldogs fans as the final race of the night.
Those two victories helped BHS crush third place Paola (73 points) in the team standings. However, Baldwin's 128 team points weren't enough to beat Gardner-Edgerton's 180.
"I think it's really awesome, but I thought it would be closer," Twombly said. "We did well in the field events today and well on the track, too. I thought it would be closer, but we are happy with second place."
Twombly, a BHS senior, helped the Bulldogs kick start the track events. She led the 3,200-meter relay, which not only won the race by 25 seconds, but also set a new league record and ran its season's best time.
The Bulldogs' 3,200 relay finished in a time of 9:49.59, beating Eudora's 2006 record by five seconds. Also participating on the relay were sophomores Elizabeth Sigvaldson and Carol Whaley and freshman Kaitlyn Barnes.
"That felt so good," Twombly said of the 3,200 relay. "My goal this year is to break the state meet record for 4A. I have it worked out and we all have to run really fast."
Twombly's relay success didn't finish with the 3,200 victory. At the end of the meet, she helped the 1,600-meter relay destroy its competition by six or more seconds. BHS ran 4:06.92 to win the race. Gardner finished second in a time of 4:12. Other relay members were senior JaBryanna Wellington, Sigvaldson and Barnes.
"It feels so good," Twombly said. "I felt awesome today, even though I ran three races today. It was a really good night. The weather is perfect. I wish it would be like this every race."
The 1,600 relay became an event for Twombly at the Redbud Classic, a week before the league meet. Junior Lyndsey Lober was the leadoff leg of the relay until she hurt her knee and ended her season. Coach Ted Zuzzio threw Twombly on the relay and the Bulldogs have kept on winning.
"Last week, I was just trying to figure out how to run it," Twombly said. "I think I understood how to run it better this week and I just let it all go. It felt really good to win and run a good time."
When asked which relay she prefers, Twombly was torn between the choices.
"It's hard to say," she said. "I like the 4x400, because it's shorter. But then again, I'm not quite as good at it. Plus, I've been on the 4x800 all four years, so that's kind of my thing."
Oddly enough, the BHS girls' other win last week came in a race Twombly ran. However, it was Barnes taking the victory in the 800-meter run. Barnes won in a time of 2:22.11, while Twombly ran 2:26.02 to place third. Whaley also placed fifth in the race, running 2:31.75.
The Bulldogs placed competitors in every race on the track and in five field events at the league meet. Freshman Monica Howard finished third in the high jump with a mark of 5-feet. She also finished fifth in the javelin (105-8). Fellow freshman Jessie Katzer placed third in the javelin with a distance of 108-5.
"Our mile relay and two-mile relay stepped up big and performed well tonight," Zuzzio said. "Monica Howard scored in four events. How can you not say something sweet about her? She did great."
Howard also placed fifth in the 200-meter dash and sixth in the 300-meter hurdles.
In the discus, the Bulldogs finished second and third. Freshman Katie Kehl and junior Allison Howard threw 123-11 and 122-6 to earn the team 14 points. Kehl also placed fourth in the shot put, throwing 37-2.5.
Junior Ramie Burkhart medaled in both hurdle races. She placed runner-up in the 300 hurdles and third in the 100-meter hurdles. Her times were 16.35 and 47.2.
Other top performances included Wellington and Sigvaldson in the 400-meter dash. They finished second and third. The BHS 400-relay also placed third. The relay members were junior Myranda Behrens, junior Sammi Meisenheimer, Burkhart and Wellington.
In the 1,600-meter run, sophomore Abi Hartzell and freshman Sienna Durr placed fourth and fifth. Durr also placed fourth in the 3,200-meter run. Senior Julie Hill and Hartzell finished sixth and seventh in the 3,200.
"We showed up big today," Zuzzio said. "We had an outstanding meet. We had season best performances in a lot of events today. We showed up and competed. We are getting better every week."
The Bulldogs will compete at the Class 4A regional Friday at Tonganoxie. The field events begin at 3 p.m. with the prelims at 5 p.m. and finals at 6:30 p.m.