BHS

baseball team ousted after rally falls short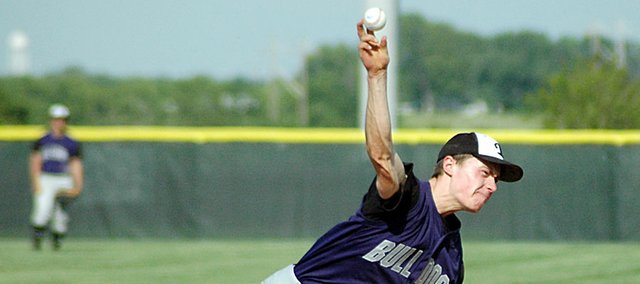 Photo Gallery
BHS baseball ousted by Eudora
Baldwin High School's baseball team rallied to nearly tie its rival Eudora in the first round of the Class 4A regional tournament, but lost 5-4.
EUDORA — Unlike the first two contests between Frontier League rivals, no late-game magic was on the field here Tuesday night.
The first two meetings between Baldwin High School and Eudora's baseball teams were come-from-behind victories, with each team winning one game. On Tuesday, the Cardinals jumped out to an early lead in the Class 4A regional game. It would be enough as Baldwin (6-13) fell to the Cardinals 5-4.
"We played pretty well tonight," coach Brock Hartshorn said. "All three games against Eudora were close ball games. We played really well, but couldn't get a timely hit when we needed it. It was a pretty well-played game."
The loss to Eudora ended Baldwin's season in the first round of the 4A regional tournament. Although BHS was the No. 5 seed, Tuesday's loss wasn't how the Bulldogs expected their season to end.
"It was tough," junior Kyle Pattrick said. "We fought all game. We got down early and tried to come back, but just couldn't get the job done tonight. It was tough, because we came pretty close."
Eudora held a 5-0 lead before the Bulldogs could get any offense started. EHS began the game with three runs in the first inning and added one more in each of the next two innings.
"They just got a couple of hits, ducksnorts, over our heads," Pattrick said. "They got a couple of extra bases on overthrows. It was the little things that hurt us in the first inning."
Baldwin started its rally in the top of the fourth inning. Junior Justin Vander Tuig was walked to start the inning. He stole second base before scoring on an RBI single from freshman Tyler Cawley.
In the fifth inning, Vander Tuig hit an RBI single that scored Pattrick from second base. A few minutes later, junior Nate Growcock charged home from third base on a passed ball. Baldwin now trailed 5-3.
"We had it in our head that we could come back, because both teams came back to win in the first two games we played Eudora," Pattrick said. "We kept that in the back of our minds. We kept fighting and never gave up."
Baldwin added another run in the sixth inning. Junior Connor Sublett scored on an RBI single from Pattrick. BHS might have scored one more, but a controversial call put leadoff batter, junior Josh Hoffman, on the bench. Hoffman's third strike was called after the Eudora coach complained to the umpire, who called Hoffman for a foul tip. The out left BHS with runners on first and third, but with two outs instead of one.
"We had thought it was a foul tip and the umpires over-ruled it, calling it a strikeout," Hartshorn said. "That took the bat out of the hands of one of our good hitters. The first base umpire over-ruled the home plate umpire and said it was a strikeout. The call didn't go our way. It was just a bad break."
The Bulldogs weren't able to muster any offense in the seventh inning. They went three up, three down to end the game.
"Tonight, there were a lot of sad faces on those kids," Hartshorn said. "That loss hurt them."
Baldwin finished 5-9 in Frontier League action. They tied Eudora for fifth place in the league standings.