Graduation parking solution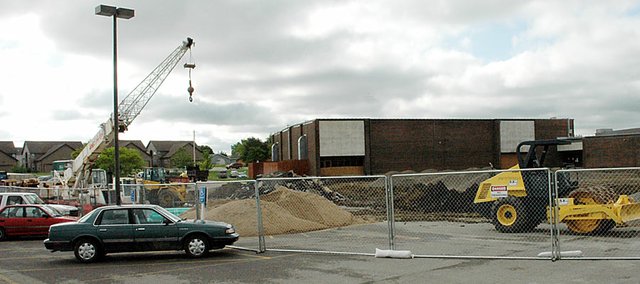 Parking will be at a premium Saturday for the Baldwin High School commencement ceremony; so another option will be available for free.
Under normal circumstances, parking around the BHS and Baldwin Junior High School complex is very crowded for the annual commencement, which begins at 11 a.m. Saturday. However, things aren't normal around the complex this year.
Three weeks ago, construction fences were put up between the two buildings for the new performing arts center. The construction zone cut off the road between BHS and BJHS and it takes up a big portion of the BHS parking lot.
"Logistically, with this performing arts center being built here, it's really cut into our parking," BHS Principal Shaun Moseman said. "We've got about 30 spaces that are now in the construction zone."
BHS officials will be using the parking lot at Baker University's Liston Stadium to help alleviate the parking problem. Shuttle buses will be providing free rides from the stadium to the BJHS gymnasium from 10 a.m. to 1 p.m. Liston Stadium is located at the corner of Second and Fremont streets.
"We've tried to alert people, especially parents, that we do have a parking issue here and we are going to provide parking at Baker University's stadium this Saturday," Moseman said. "We'll run two shuttle buses back and forth and we'll drop people off in front of the junior high. So, if you don't get a spot here, you can park over there and we'll bus you here.
"If you want to park here, you better get here very early," he said. "This lot will fill up quickly."
Parking will still be available in the main lot east of BHS, as well as southwest of BHS near the tennis courts and by the main BJHS entrance, southeast of the building.
"The road has been closed between the buildings," Moseman said. "People will have to walk around the junior high. Everybody will also have to enter from the east side of the building. I know a lot of them enter from the north side by the gymnasium, but that entrance isn't accessible with the construction."
The BHS commencement will start at 11 a.m. in the BJHS gymnasium with the traditional walk around the mezzanine above the gym floor.