Council gives initial approval to electrical rate increase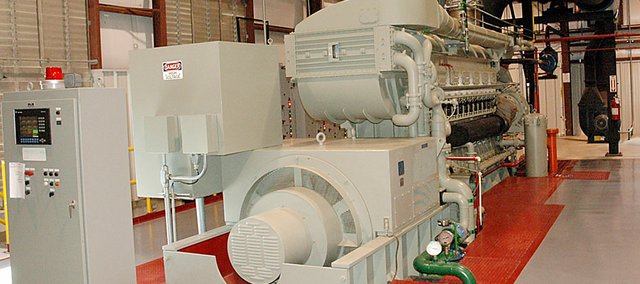 After a lengthy discussion Monday night, the Baldwin City Council took the first step in making the first electrical rate increase since 2002. It will come in two phases, both 6 percent, when approved.
The council discussed raising rates 6, 9 or 12 percent during Monday's meeting. A motion for a 9 percent increase was amended to a 6 percent increase starting July 1, with another 6 percent slated to begin July 1, 2011.
The motion passed unanimously to move the ordinance to a second reading in June where, if approved, the rate increase would be enacted. City Administrator Jeff Dingman said the increase was necessary to keep the electrical utility in the black. The 2010 city budget was drawn up with a rate increase in place.
"We need the 12 percent," said Dingman. "If it takes two years to get there, so be it. We've needed an increase for two years, so I'd be happy with whatever I can get."
The new electrical plan includes changes to the rate which include a power cost adjustment (PCA) and the establishment of up to 14 different rates. Currently, there are only three rates. The specifics of those changes will be worked out prior to implementation.
"Previously, we have had essentially three customer classes — residential, commercial and Baker University," said Dingman. "The proposed ordinance expands that number from three to 14. This allows us to identify specific rates for customers of various sizes, as well as separating out rates for schools, churches and city facilities."
As for the PCA, it basically passes on the cost to consumers when electrical rates are at their highest. Dingman says it amounts to about .0032 of a dollar in additional cost.
"It's common in the electric business," he said. "I'd say 95 percent of power companies have a PCA."
As for the rate increase, the council went back and forth with opinions, just as the utility committee had done. In the end, the committee didn't make a recommendation because of the differences in opinions. Council Members Ted Brecheisen Jr. and Tom Farmer are on the committee and they couldn't agree.
"I'm at the 6 (percent) plus 6," said Brecheisen. "To jump all of this at once wouldn't be right. We're all going to have to learn to live with it, but I think we should ease into it with 6 plus 6."
Farmer was in the middle.
"I didn't feel like 6 percent was enough," said Farmer. "I don't think 12 percent is right. I was the one that suggested 9 percent. I can go the 9 percent, but I don't want to go 12 percent. I won't vote for it."
Two other committee members were at the council meeting and they agreed on a figure.
"The 12 percent is the right figure to me," said Richard Wellman. We've been studying this since 2008 and that hasn't changed. Debt is 19 percent of costs and we need to get that paid off."
Debt service amounts to around $600,000 per year and won't be paid off until 2026. The electrical system went under a massive overhaul starting in 2000, which included building the new power plant at more than $5 million. Still, the rates most customers pay is below the national average of 14.9 cents per kilowatt hour, according to the council, which says the local rate is 10.3 cents per kilowatt hour.
"The cable bill goes up every year and I don't see people canceling it," said Council Member Robin Bayer. "We are not significantly different from regional average rate payers. I am strongly in favor of the rate increase as proposed by Mr. Dingman."
Several residents spoke to the council and one said that KCPL was interested in buying the whole electrical system and that Baldwin City should get out of the power business. However, Mayor Ken Wagner said that in talks that he's been a part of with KCPL that while there might be interest in the electrical system and the customers, there's no interest in the power plants. Wellman agreed.
"They are not interested in buying the system and paying the debt service," he said.
Wagner urged the council to move forward and didn't rule out additional discussions with KCPL.
"I don't think we can look back, we've got to look forward," said Wagner. "We can look at the possibility of discussions with KCPL. But we've got to do what's fiscally responsible."
Another electrical item on the agenda was the purchase of four additional breakers. That discussion fell to shambles and it was sent back to the utility committee for a recommendation.
"We look horrible in this situation," said Wagner. "This has no validity on this being a discussion item tonight."
Earlier in the meeting, the council heard from the Kansas Department of Transportation regarding three bridges that will be replaced on U.S. Highway 56 in 2012. More information on that will be in next week's Signal.